This year too we can count on Mansory's extravagant creations to rock the Geneva Motor Show. The German tuner traditionally brings a fair amount of cars to the world's most important motor show and this year is no exception. This year's line up includes the Mansory Maserati Levante, Mansory Porsche Panamera, Mansory Bentley Bentayga Black Edition, Mansory Rolls-Royce Dawn, Mansory Mercedes-Benz V-Class, Mansory Mercedes-Benz S-Class convertible Black Edition, Mansory GRONOS G500 4×4 squared Black Desert and the Mansory 4XX SIRACUSA SPIDER.
Mansory Maserati Levante
Let's start off with Mansory's flashy conversion of the Maserati Levante. It is fitted with a widebody kit finished in orange painted visible carbon fiber and contrasting aerodynamic elements. On the side the Mansory Levante impresses with 22-inch light alloy 'GTurismo' wheels available in the colors Diamond Black and Diamond Silver.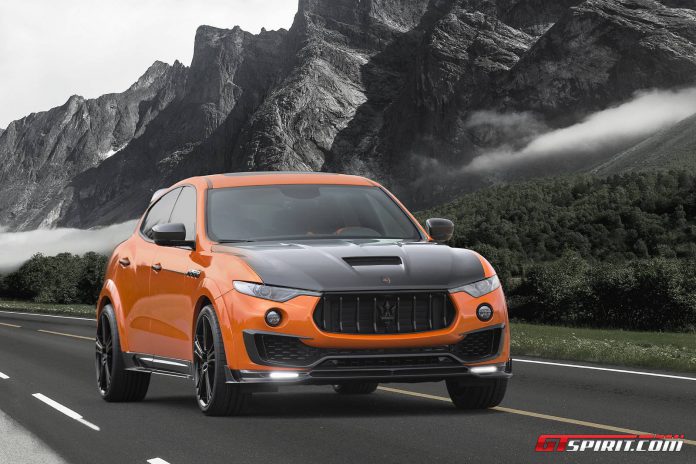 Mansory also upgraded the V6 twin-turbo of the Maserati Levante S, accounting for an extra 35 hp (25 kW). The modest performance upgrade is the result of re-programmed motor management, sport air filter and new sports silencer on the custom exhaust system with angular tailpipes at the rear.
We can count on the interior being just as special, beginning with a completely re-clothed steering wheel added aluminum pedal set. Clearly hinting at the car's orange exterior, there is also plenty of orange carbon fiber inserts to be found in the car's interior. Finally the highly-skilled interior specialists of Mansory's in-house upholstery shop took care of the rest.
Mansory Porsche Panamera
Just as with the Maserati Levante, carbon fiber plays a dominate role in this custom Mansory build based on the new Porsche Panamera. Mixed with a Candy Red paint job the carbon fiber parts stand out like with most Mansory cars.
Massive 22-inch lightweight rims elevate the Panamera's road presence on the side and contribute to the stability of the sports car. Under the hood Mansory equipped the car's engine with an optimized ECU and sports air filter, which are complemented by a high-performance aftermarket exhaust system. As a result of the performance upgrade the Panamera now delivers an extra 35 horsepower (26 kW) and 40 Nm of torque.
Mansory Bentley Bentayga Black Edition
Next up is Mansory's Bentley Bentayga Black Edition. The world's most luxury SUV today forms the perfect base for a Mansory conversion and the German tuner left no stone unturned in equipping it with their best materials and design features.
On the front the Bentayga gets a distinctive appearance with an integrated front splitter and additional daytime running lights, all surrounded by and finished in visible carbon fiber. The tuner additionally replaced the front bonnet with a lightweight carbon fiber bonnet and also incorporated the exquisite lightweight material in the car's front grille.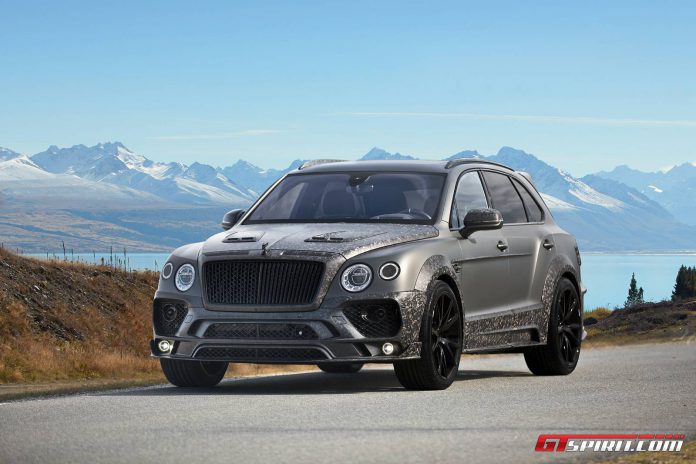 At the rear the specially developed spoiler draws attention and reduces back pressure significantly. This is further complemented by the completely custom rear diffuser in carbon fiber housing the two dual-tailpipes of the sport exhaust system.
Fitting rims come in the shape of new Y5/1 lightweight's and underline the Bentayga's dynamic capabilities. At the heart of the Mansory refinement program is a significant performance upgrade. Bentley's W12 was tweaked to deliver 701 hp (515 kW) and 1,050 Nm of torque, a fair increase over the conventional 608 hp and 900 Nm of torque. As a result the world's first production SUV to exceed a top speed of 300 km/h now tops out at 311 km/h, a 10 km/h increase.
Mansory Rolls-Royce Dawn
Mansory's fourth creation at the 2017 Geneva Motor Show is based on the open-top Rolls-Royce Dawn. Contrasts on this creation remain rather uniform but nonetheless breathe an exclusive vibe. The sporty bodykit hints at the presence of additional power and the engineers at Mansory have outdone themselves indeed.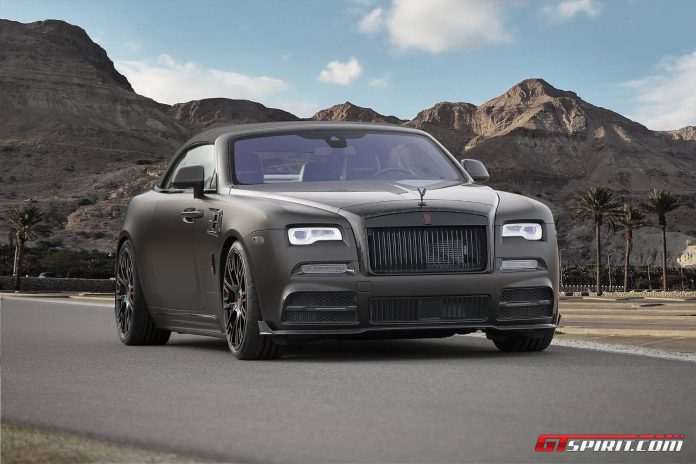 A serious performance increase raises the boundaries of the Dawn's V12 engine to an output of 740 hp and 1,000 Nm of torque compared to the conventional 570 hp and 780 Nm of torque. This translates to on road performance with a 0-100 km/h sprint now done in just 4.5 seconds. Additionally the Dawn's top speed has been increased from 250 km/h to 285 km/h.
No matter how luxurious the inside of a Rolls-Royce may be in factory condition, Mansory always finds something to further refine. Brushed aluminum, a wealth of carbon fiber, and a choice of burl wood or highly polished piano lacquer dominate the luxurious interior space.
Mansory Mercedes-Benz V-class
Another one of Mansory's creations is based on the Mercedes-Benz V-Class. The Mercedes-Benz luxury van is a popular basis for many tuners worldwide and is often converted into a luxury meeting and working space on wheels, as is the case with the Mansory Mercedes-Benz V-Class.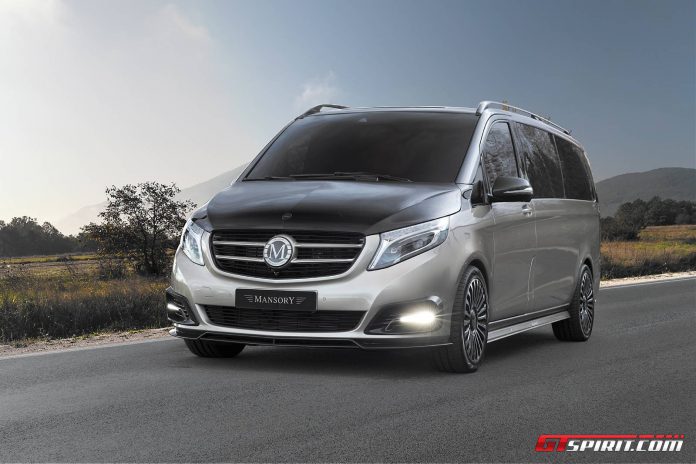 Modifications to this Mercedes-Benz V-Class are purely aesthetic. The Mansory logo now shines on the van's front grille and a large carbon fiber bonnet contrasts with the rest of the car's exterior. Large multi-spoke lightweight wheels finish off the van's luxururious appearance.
Mansory Mercedes-Benz S-class Cabrio Black Edition
Mercedes-Benz and Mercedes-AMG cars are traditionally popular subjects for Mansory to customize. Things are no different with the Mansory Mercedes-Benz S-Class Cabriolet Black Edition. A custom aerodynamic carbon fiber body kit elevates the car's road presence. It comes with additional daylight running lights, air intakes and bumper canards.
A lowered suspension module brings the open-top S-Class even closer to the road, by 30 mm to be exact. In combination with the 50 mm wider widebody design the Mansory S-Class Cabriolet Black Edition looks very intimidating indeed.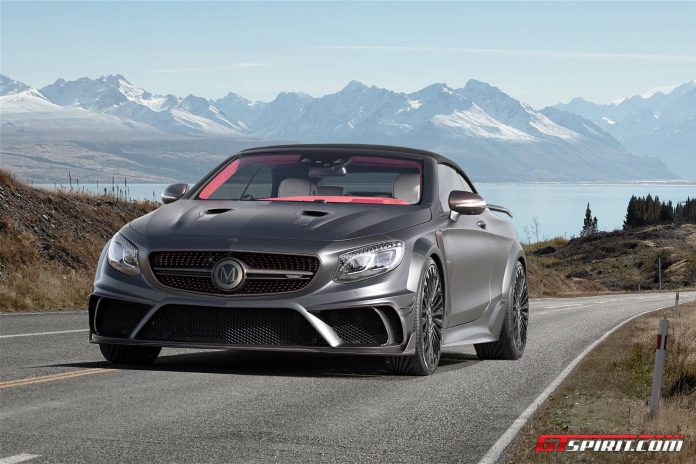 The upgrades to the car's exterior go hand in hand with a comprehensive engine upgrade courtesy of Mansory's very own engine development engineers. The specialists replaced the car's original turbocharger and sports air filter and designed a new, stainless steel sport exhaust system to further improve the car's low-pressure discharge and acoustics.
The result is a staggering output of 840 hp (618 kW) and an electronically limited 1,150 Nm of torque. To put things into perspective, the Mercedes-AMG S 63 Cabriolet originally delivers 585 hp (430 kW) and 900 Nm of torque. The huge increase leads to a 0-100 km/h sprint in just 3.5 seconds and an electronically limited top speed of 300 km/h.
Mansory GRONOS G500 4×4 squared Black Desert
One of Mansory's big releases at the Geneva Motor Show 2017 is the Mansory Gronos G500 4×4². Nick-named the "Black Desert", this particular G500 4×4² is modified to the maximum.
The Mansory Gronos G500 4×4² retains its 440 millimetres of ground clearance and a wading depth of one meter together with portal axles. What Mansory adds is a complete carbon fibre widebody kit with larger side sills and door-skins to bridge the gap between the huge mud guards. Both the front and rear facia are new with a fresh under guard.
When it comes to performance a Mansory ECU unit increases power developed by the 4.0 litre bi-turbo V8 by 63 hp and 100 Nm of torque. The wheels are Mansory's own forged models named M8. Inside, carbon, alcantara and leather surfaces have been applied with a set of individual seats replacing the standard rear seats.
Mansory 4XX SIRACUSA SPIDER
Finally a year on from the original Mansory 4XX Siracusa release, Mansory are back but this time with the open-top Ferrari.
As well as the obvious makeover to the exterior, Mansory have packed the 4XX Siracusa Spider with additional power. The 3.9-litre twin-turbocharged V8 now produces 790 hp from 8,000 rpm with torque of 870 Nm at 3,000 rpm. 0 to 100 km/h takes place in just 2.9 seconds with a 330 km/h top speed. The sizable performance upgrade is courtesy of a new engine management system and custom exhaust system.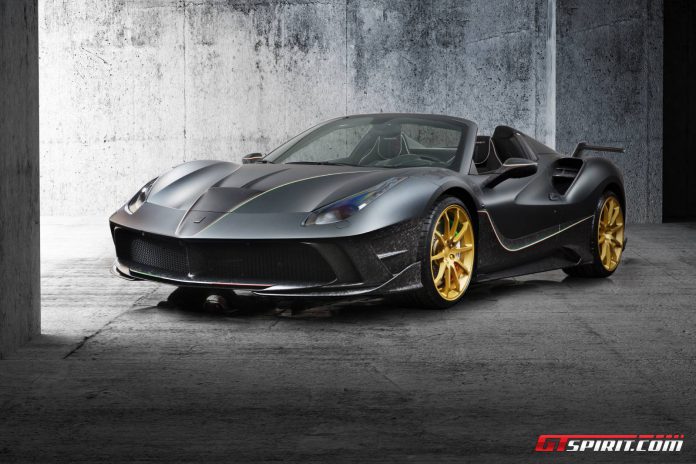 Improvements have also been made to the chassis with four progressively wound lowering springs. They bring the 4XX Siracusa Spider 20 millimetres lower to the ground. On the inside we can once again count on Mansory's upholstery specialists for a rather special interior space.
For more from the Geneva Motor Show 2017, make sure to bookmark our dedicated news channel and keep checking back.