AC Schnitzer have presented a limited edition ACL2S tuning package for the BMW M240i to celebrate it's 30th year. The AC Schnitzer ACL2S will be presented at the Geneva Motor Show 2017 which starts next week. The conversion improves all aspects of the baby M-car, making it one of the more desirable 2-Series based tuning projects!
The AC Schnitzer ACL2S conversion includes a performance upgrade taking the 340 hp and 500 Nm engine up to 400 hp and 600 Nm. AC Schnitzer also fit a new silencer system made of V2A stainless steel with exhaust flap, connecting pipe and sound pipe.
The AC Schnitzer ACL2S also includes fully RS adjustable suspension (adjustable in height and in compression and rebound), bringing the BMW M240i lower to the asphalt by approximately 35 – 45 mm at the front and 40 – 50 mm at the rear.
The aerodynamic package includes a carbon fibre front spoiler element and a front splitter, carbon fibre front side wings and a side skirt kit with carbon fibre wings. At the rear, AC Schnitzer fit a rear roof spoiler and carbon rear spoiler together with a carbon rear diffuser. The final piece of the package are a set of two-piece carbon fibre rear side wings.
All said, the ACL2S sits 80 mm wider at both the front and rear. To maximise the looks, AC Schnitzer fit a set of carbon mirror covers, a rear skirt film and a set of ACL2S logos. Inside, a 3-spoke Sport multifunction leather steering wheel is included with coloured indicator and stitching, together with a painted 5-piece interior trim kit. The normal aluminium handbrake handle, aluminium pedal set and aluminium footrest are also included.
The wheels are AC1 Alloys Wheels in BiColor Black and Silver. They measure 19 inches and fill the wider wheelarches. They measure 8.5J x 19″ with 235/35 R 19 tyres at the front, and 9.5J x 19″ with 265/30 R 19 at the rear.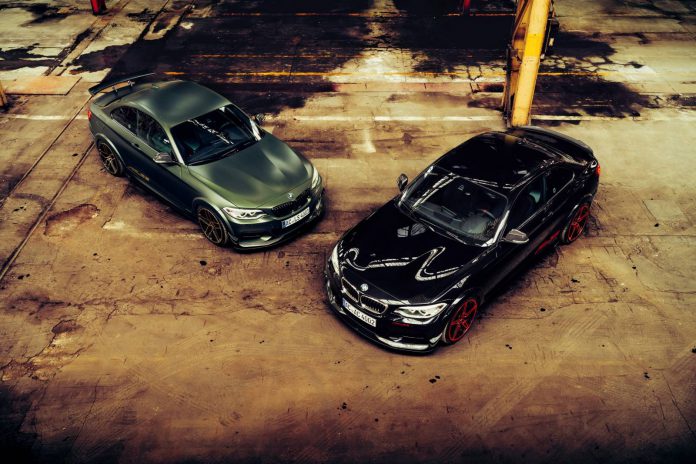 Optional extras include a V-Max extension to 280 km/h with an instrument cluster up to 300 km/h, clubsport coilovers including support bearings, a limited slip blade differential and a wheelset with Lightweight Forged Wheels Type VIII wheels. Bonnet vents are also available together with Recaro Sports seats.
The entire AC Schnitzer ACL2S basic conversion kit with all components, fitting, registration and 19% VAT is priced at €35,900. Just 30 sets of the conversion kit will be produced. They will be available direct from the Aachen-based tuner and from selected partners.