Pagani founder and CEO Horacio Pagani has recently taken delivery of his brand new Ferrari F12tdf. Despite owning one of the most desirable Italian supercar brands, the maestro himself went car shopping in Maranello and we can't blame him, the Ferrari F12tdf is one of those elite GT's that make almost every petrolhead's heart beat faster.
Shopping at the competition is not a practice mr. Pagani is unfamiliar with. He has been known to regularly experience first hand what the competition is up to and as a result has built an insane car collection over time. Porsche is another one of those sports car brands that can regularly count on the interest of Horacio Pagani, with his Porsche Carrera GT, Cayman GT4 and 918 Spyder serving as testament.
Taking delivery of his one of 799 F12 Tour De France, the Pagani founder stopped by the factory gate for an official photo. Without a doubt one of the most flamboyantly specced Ferrari's out there, this custom 780 hp monster will definitely turn heads. Finished in a hue of Burgundy, plenty of visible carbon fiber was selected from the options menu. Most insane are probably the golden wheels on this prancing horse, although the white accents and central stripe also draw the eyes.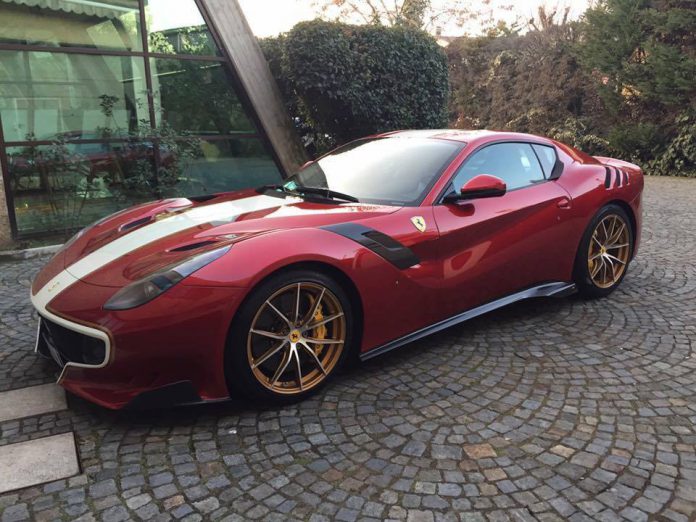 This Ferrari F12tdf is Horacio Pagani's second addition to his growing car collection in a short amount of time. Prior to collecting his latest V12 machine, he took delivery of the limited Porsche 911 R. What are your thoughts on this F12tdf spec?