As expected, Bentley have announced the introduction of a second Diesel powered model to the Bentayga SUV range; the Bentley Bentayga Diesel! The oil burner is expected to debut at the Paris Motor Show 2016 which starts next week. It houses a 4.0 litre V8 engine, the first time such a unit has been fitted to a Bentley model.
At the heart of the Bentayga Diesel is a tripe-charged 4.0 litre V8 engine. Bentley shares the power unit with the Audi SQ7, yet there are some changes. The most notable (form reading the spec list) is that additional supercharger. Twin turbochargers use variable-geometry, sequential twin-scroll technology in the conventional sense; powered by the exhaust gases. A third electric supercharger – powered by Bentley's 48V system – provides additional boost to eliminate turbo lag.
All in, the Bentayga Diesel produces 435 PS (429 bhp) and 900 Nm (664 lb. ft.) for a top speed of 270 km/h (168 mph) and 0-100 km/h in 4.8 seconds (0-60 mph in 4.6 seconds). Compared to the W12 powertrain, thats 30 km/h off the top speed and 0.7 seconds slower to 100 km/h. No mean feat for a diesel SUV!
2017 Bentley Bentayga Diesel
The real headline for most will be the continent crushing ability. A single tank of diesel should be enough to manage a range of over 1,000 km (621 miles). Bentley suggest London to Verbier, Bordeaux or the Scottish Highlands on a single tank – the latter journey took us slightly more than 1.5 tanks in the V8 Mulsanne earlier this year!
A bespoke exhaust system has been acoustically engineered to be as quiet and refined as possible, the Bentayga Diesel is no tractor! A combination of Selective Catalytic Reduction and Bentley's stop-start system (among other design features) contribute to an alleged class-leading CO2 emission figure of 210 g/km.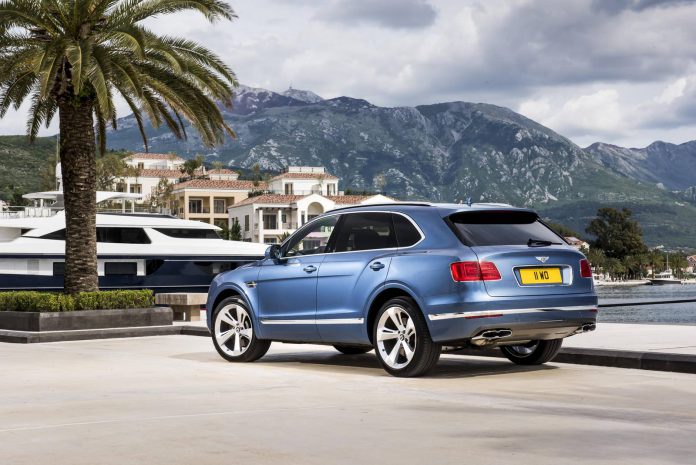 The Bentayga Diesel is differentiated by a new 'twin-quad' exhaust tailpipe design together with a V8 diesel badge and a black metric grille with chrome surround. The optional Mulliner Driving Specification includes 21 inch wheels – available in a silver or grey painted finish. A 20 inch ten-spoke alloy wheel offered as standard.
The Bentayga's cockpit is as before. A new Liquid Amber veneer finish has been introduced with Bentayga Diesel. This can be specced with an exquisite integrated Mulliner Hamper Set, complete with refrigerator, bespoke fine Linley china cutlery, crockery and crystal glass, and storage area for dry goods. If that's not your thing, why not try the Mulliner Tourbillon by Breitling clock!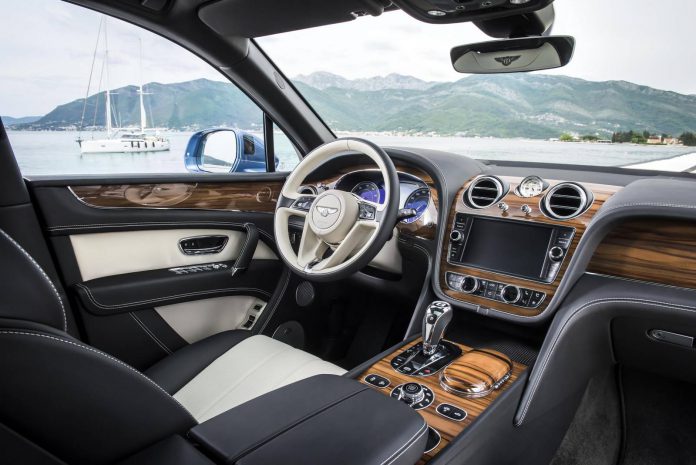 Customer deliveries will begin in Europe early next year, with entry into Russia, South Africa, Australia, New Zealand and Taiwan planned across the rest of 2017. It doesn't appear as though North America will get the Bentley Bentayga Diesel.