German Lamborghini tuner Novitech Torrado has debuted their tuning program for the Lamborghini Huracán LP 610-4 Spyder, which brings with it exterior styling upgrades along with a significant boost in power for the 5.2-liter V10 engine.
Novtech engineers have developed a twin-supercharger system for the Huracan's 610 horsepower and 560 Nm V10, bringing output to an incredible 860 horsepower and 960 Nm. The forced-induction system is also joined by a Novitech sport exhaust kit with active butterfly valves available in stainless steel or 'Inconel' – a metal used for Formula 1 exhausts and in other high-heat applications.
Novitec Torado Lamborghini Huracan Spyder
Styling wise, Novitech has applied an aerodynamics kit consisting of a front lip spoiler, a central front blade, side flaps and rocker panel skirts, along with an aggressive rear diffuser and small rear wing. The kit can be ordered in a naked carbon fiber finish to further enhance the look of the Huracan Spyder.
Other upgrades include Novitech-designed wheels which measure 20-inches in the front and 21-inches in the rear, a carbon fiber cover for the V10 engine and Novitech sport springs, which lower the ride height of the open-top two seater by about 35mm.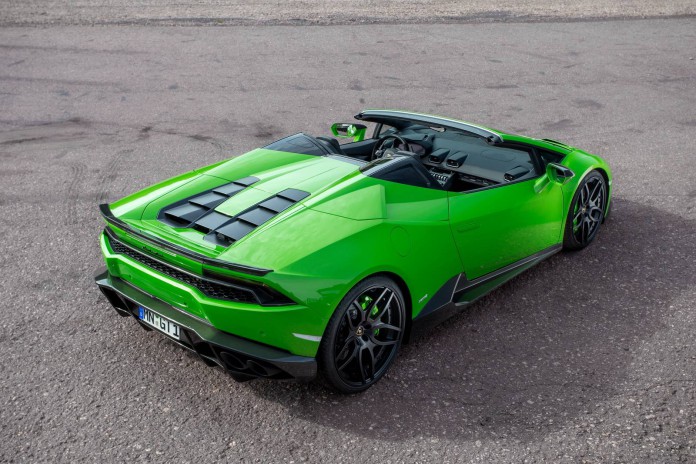 The Novitech Torrado Lamborghini Huracán LP 610-4 Spyder is available to order now.