16 years ago, one lucky McLaren customer had the opportunity to purchase the McLaren F1 GTR that finished fifth at the 1995 24 Hours of Le Mans. He of course jumped at the opportunity and is now the proud owner of not only the legendary road-legal racecar, but of a matching McLaren P1 XP as well.
The F1 GTR in question bared 'Jacardi' sponsorship at Le Mans in 1995 and was piloted by Fabien Giroix, Jean-Denis Délétraz and Olivier Grouillard. Following the race it was purchased by a new owner, who had it sent back to McLaren to be converted for road use, at which point its Jacardi sponsorship was removed and it was painted orange.
In 2000 the car's current owner discovered it for sale and promptly scooped it up, despite a well-known McLaren collector advising he instead purchased a road car as he believed it would hold its value better. Looking back, the owner realizes buying the ex-race car was a much better decision, but at the time the future value of the car was uncertain.
When the McLaren P1 was announced, the owner of the F1 GTR was looking to buy one of the hybrid hypercars to go along with his F1 GTR. McLaren found him an 'XP' variant, which is based on a pre-production prototype P1, that was painted the same shade of orange as his F1 GTR.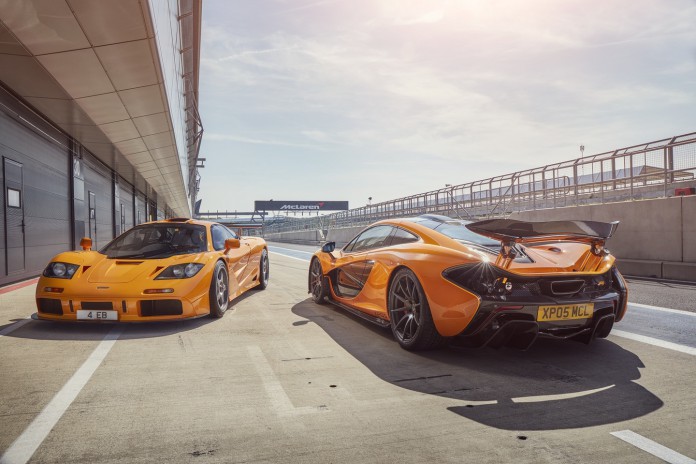 "I bought the original McLaren 12C, the 650S, and I was considering a McLaren P1" he explained. "Then McLaren offered me a McLaren P1 XP, which is even more special, and I took it like a shot. I prefer things with a bit of history, and the XP has that. Then we found an original orange XP to match the GTR."
The two cars are pictured here in the pit lane of the Silverstone Grand Prix circuit – a sight to behold for any British car or racing enthusiast.