Since 2010 Mercedes­-Benz designers have put their hands on more than just cars under the label of Mercedes­-Benz Style. Today we are reviewing their creation in cooperation with Airbus Helicopters, the H145 Mercedes­-Benz Style helicopter!
The H145 might not ring a bell immediately but previously known as the Eurocopter EC145 it was first launched in 2002 and over a thousand are in use by the military, governments, businesses and private clients around the world. Interestingly Eurocopter finds it origin in the merger of Aerospatiale and the helicopter division of Daimler­-Benz Aerospace in the early 90's.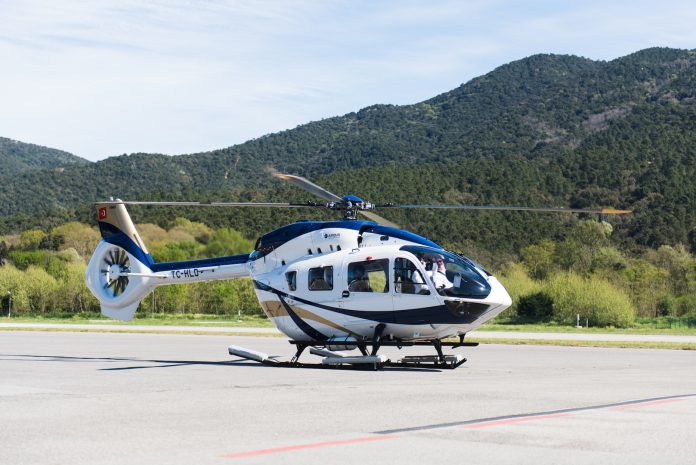 The Airbus Helicopters H145 is a twin engined light utility helicopter which is available in various different versions for different purposes including a military battlefield helicopter, emergency and rescue services, police, business and private aviation. Our test H145 Mercedes­-Benz Style is suitable for business and private clients looking for a luxurious helicopter.
The H145 has two Turbomeca Arriel 2E engines with an output of around 900 horsepower. It has a maximum range of around 640 kilometers at a cruising speed of 240 km/h. With an empty weight of 2,449 kilogram the Mercedes­-Benz Style model is a bit heavier than the standard H145 that weighs in at 1,919 kilogram. With a loading capacity of 1,250 kilograms the H145 can still take eight passengers, two pilots and luggage comfortably. The max load is limited to 3,700 kilogram.
Nose to tail the Airbus H145 measures 11,69 meters, it has a width of 2.4 meters (excluding rotors) and a height of 4 meters. Its compact size makes it an attractive choice for superyacht owners. The cockpit has three large displays running Helionix avionics suite which provide all essential information, pilot assistance and situational awareness. The H145 is also equipped with the most advanced four axis autopilot which offers high flight stability and automated takeoff.
The passenger compartment is where Mercedes­-Benz Style comes into play: a new seat design with improved ergonomics and high quality leathers increases passenger comfort as well as adding a luxury feel to the cabin. An improved infotainment system is there for the passenger's entertainment while in­flight wifi allows guests on board to stay connected wherever they go.
Customers can personalize the cabin leathers and chose between a real wooden floor or several types of carpets. A new light concept gives a typical Mercedes-­Benz touch to the interior. New attachment points and a integrated cabinet are exclusive to the Mercedes­-Benz Style version of the H145.
The entire interior of the passenger compartment is modular which means that it can be reconfigured depending on the purpose of the trip. This way it is possible to carry larger items, have four seats and more luggage space or 8 seats to carry more passengers.
The air conditioning can be controlled individually similar to the systems used on most airplanes. One big difference with private jets is the noise level in the cabin. Therefor all passengers seats come with A20 Bose Aviation headsets. These reduce the noise and allow passengers and pilots to communicate.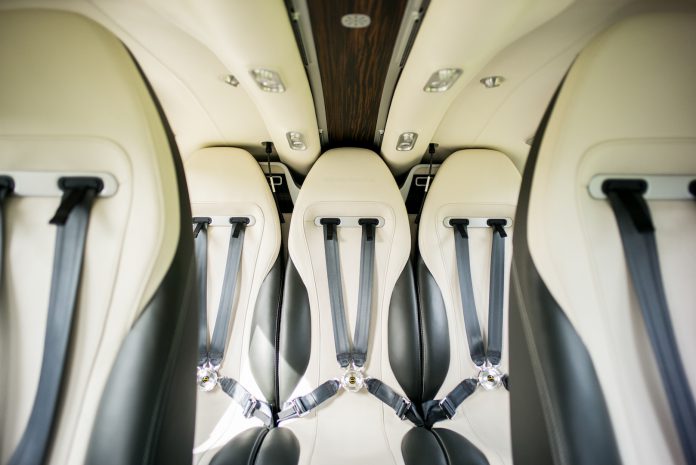 On our review flight we went from Nice Airport to an estate near St Tropez. Heavy winds made the ride a bit turbulent but the seats with four point harness were very comfortable. The rear row in 8 seat configuration is a bit cramped so for private use I would prefer to use a 5 seat configuration with a cabinet in the middle of the rear row.
Two main competitors in this segment; Bell helicopters and Agusta also offer helicopters in this segment but the Mercedes-­Benz Style trim adds a level of customization and luxury that they can't match.
The first two Mercedes-­Benz Style H145 helicopters were delivered to Körfez Aviation in Turkey. They were added to their fleet for business and private aviation and charters in Turkey. In total 14 Airbus H145 Mercedes-­Benz Style helicopters have been ordered so far. And the thing most of you are probably wondering is – what about the price tag? In Mercedes­-Benz Style guise the price of the Airbus H145 Mercedes­Benz Style is around 7 million Euro.