Norway's Petter Solberg kicked off the 2016 FIA World Rallycross championship by triumphing at the season opener, Rallycross of Portugal in his Citroen DS3 Supercar. The two-time World RX champion and defending champion overcame a number of glitches in his car to scoop this win, confirming him as the unbeatable force in Rallycross.
Audi thrived by taking a double podium, with Robin Larsson claiming second in his privately entered Audi A1 Supercar, leading the Audi S1 EKS quattro of Topi Heikkinen. It was a joy for Audi as a manufacturer as they also triumphed at season opener of the FIA WEC, 6 Hours of Silverstone.
The new Hoonigan Racing Division Ford Focus RS Supercar missed the podium narrowly with Andreas Bakkerud finishing fourth overall. His teammate Ken Block suffered a number of software glitches and was unable to show his full potential, Block will race in the full 2016 World RX calendar.
Moving on, fifth place went to WRC record holder Sebastien Loeb who also makes his return to Rallycross this year, teaming up with Team Peugeot Hansen. A transmission issue denied Loeb a chance to fight for the podium.
World RX of Portugal 2016
The Monster Energy Super Charge Award went to Q1 winner Johan Kristoffersson driving a VW Polo RX for Volkswagen RX Sweden. Kristoffersson won the event last year but was unable to repeat his victory today after colliding with Solberg and ultimately breaking his driveshaft.
EKS RX are on top of the Teams' Championship points after garnering 38 points in the first round, thanks to Heikkinen's P3 finish and Mattias Ekstrom finishing the event as the Top Qualifier.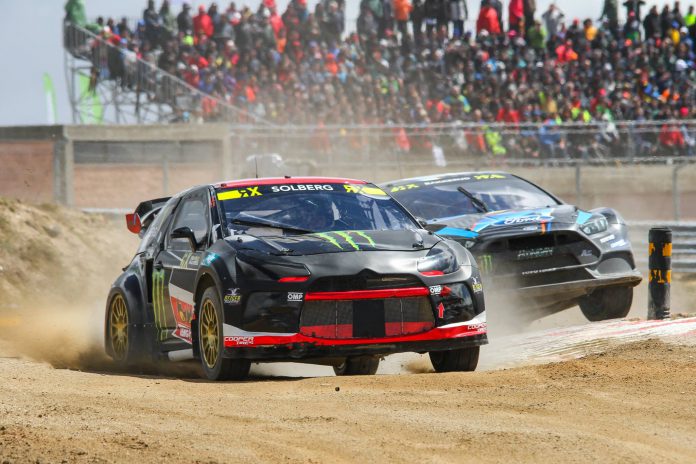 Speaking about his victory, Solberg said, "I'm really happy – my team have put in countless hours working on the car in the factory recently and this win is for them. At the end of Q2, I was seventh – I've been in worse positions but we had a team meeting and we made some set-up changes. Today started well but we had a faulty launch control system so I had to do a manual start. For the final, we had the same problem but actually I managed okay, sometimes the old fashioned way can work! Last year we had eight different winners throughout the season and in 2016, we have three or four extra drivers who are very capable of winning events so it's not going to be easy that's for sure!"
Ulrik Linnemann from Denmark topped the Super1600 category leading Mario Barbosa from Portugal and Timur Shigaboutdinov from Russia.
The next World RX race will head over to Germany at the Hockenheimring three weeks from now. It will be an action packed weekend as the DTM season will kick off on the same circuit.