Nico Rosberg has claimed his first pole of the season at the Chinese Grand Prix qualifying today. The German was the only Mercedes driver on the field after Hamilton dropped out with a technical problem in Q1. Rosberg used a witty strategy seen during Q2 where he managed his soft tires wisely, and heading into Q3 with the quicker supersoft rubber. Despite the undeniable pace of the Ferraris, the lone Silver Arrow ran steady and claimed the third straight pole for Mercedes this season.
Red Bull's Daniel Ricciardo claimed P2 after a last minute stint worked out for him, beating both Raikkonen (P3) and Vettel (P4). Bottas qualified fifth for Williams leading Kvyat, Perez, Sainz and Verstappen. Hulkenberg is currently under investigation for unsafe release where his front wheel came off in Q2, ending the session prematurely.
2016 Chinese Grand Prix Qualifying Results
1. Nico Rosberg – Mercedes
2. Daniel Ricciardo – Red Bull
3. Kimi Raikkonen – Ferrari
4. Seb Vettel – Ferrari
5. Valtteri Bottas – Williams
6. Daniil Kvyat – Red Bull
7. Sergio Perez – Force India
8. Carlos Sainz – Toro Rosso
9. Max Verstappen – Toro Rosso
10. Nico Hulkenberg – Force India
The old qualifying system was welcomed back at the Chinese Grand Prix, after the new format of countdown timers proved to be ineffective in the last two races. Lewis Hamilton faces a five-place grid penalty tomorrow due to a gearbox change but the World Champion, and a four time Chinese GP winner is not worried at all, he sees it as an opportunity to rise further.
Packed stands at Shanghai International Circuit with #Quali minutes away#ChineseGP 🇨🇳 pic.twitter.com/Jo3eqoMV4h

— Formula 1 (@F1) April 16, 2016
With the stands packed to the brim, and a 30% chance of rain, the Chinese GP qualifying kicked off to a promising start with Hamilton heading out first. The Briton was on intermediates but he immediately reported that the track was dry – Manors were the only ones out on supersofts meaning they made the right, or lucky choice.
A few moments later, Wehrlein went straight into the barriers and the session was immediately red-flagged. "Sorry guys, no chance to do anything," the former DTM champion said – he was also on supersofts. As we would learn later, there are quite a number of wet patches on the pit straight where the Manor crashed, but it was a bump that caused him to veer off the track.
Huge disappointment for Pascal Wehrlein as he crashes out of Q1 after just three minutes #ChineseGP 🇨🇳 #Quali pic.twitter.com/nQF8SGcISW

— Formula 1 (@F1) April 16, 2016
Not the kind of car we expected to see on track. Manual track drying and cleaning in progress. #ChineseGP #Quali pic.twitter.com/5P1ivpkAtR

— Sauber F1 Team (@SauberF1Team) April 16, 2016
Track being cleaned and dried at the patch where Wehrlein lost control

Clock is stopped with 14:38 remaining in Q1 pic.twitter.com/HLgI1YgMyr

— Formula 1 (@F1) April 16, 2016
Q1 was back into action after a few track drying efforts, drivers began making their flying laps with Gutierrez putting down a 1m40.262s lap. McLaren's Button beat that with a quicker 1m38.324s laps leading Grosjean and Palmer.
"There's a car parked at the entrance to the pits, if we go off we're going to hit it," that was Button over the radio regarding a truck that was parked on the pit entry. Once Mercedes rolled out of the garage, Rosberg went ahead to set the fastest time topping both McLarens. Mercedes later confirmed that Hamilton had an issue with his ERS, the world champion was forced out of qualifying and will start from the back row tomorrow.
"We had hoped that a fix had been found after that first wet lap – unfortunately it turned out not to be the case," said Mercedes.
Q1 ended with Vettel on top, leading Raikkonen, Bottas, Sainz, Rosberg, Ricciardo, Kvyat, Massa and Perez in the top ten. Out in Q1 were Magnussen, Gutierrez, Palmer, Haryanto, Wehrlein and Hamilton.
Q2 kicked off to a slow start but in the meantime, Hamilton was out speaking to the media. He did mention that the track has plenty of room to overtake and he is ready to battle it out tomorrow. Rosberg on the other hand had the fastest time in Q2 with a 1m36.240s lap, though most cars were still in the garages.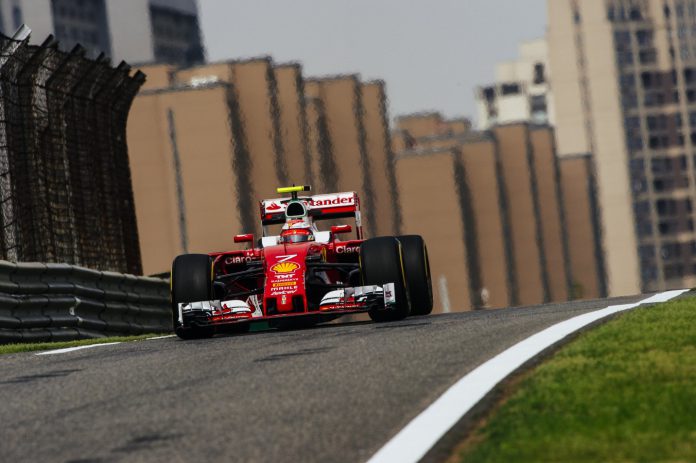 Rosberg's time was beaten by the two Ferraris with Vettel on top leading Raikkonen, but the Mercedes man had a strategy of his own knowing well that he will start the race on the same Q2 tires. After a satisfying lap from the German, he went back to the garage to wait for Q3. Meanwhile, Force India's Hulkenberg reported a missing front wheel which came off just before the end of the session. The session was red flagged but essentially over as only 1m17s was remaining.
Pace setters in Q2 were Vettel, Raikkonen, Rosberg, Ricciardo, Bottas, Kvyat , Perez, Sainz, Verstappen and Hulkenberg. The eliminated lot comprised of Massa, Alonso, Button, Grosjean, Ericsson and Nasr. FIA later confirmed that they are investigating the unsafe release of Hulkenberg.
Perez was the first man to head out in Q3, and even though 10 cars qualified through, only nine made it to the field as Hulkenberg was still missing a tire. Rosberg set the pace on 1m36.111s, Vettel was still in the garage but Raikkonen was out. The Ferrari man then topped the sheets on his first flying lap, 0.1s faster than Rosberg.
The final laps were everything as Rosberg managed to set the fastest time overall beating both Ferraris, even more, Ricciardo stole the remaining front row slot by claiming P2 leading the two Ferraris of Raikkonen and Vettel. The latter ran wide in his first attempt allowing Raikkonen to stay ahead.
Formula 1 Chinese GP 2016
Free Practice Report
The first free practice on Friday morning was disrupted by two red flags brought out by spins from Williams Felipe Massa and Renault's Kevin Magnussen. Nonetheless, the action from the Silver Arrows remained unaffected to say the least, as Rosberg rose to set the fastest time taking first place ahead of Hamilton. Vettel crossed the finish line in third leading Ricciardo, Raikkonen, Kvyat and Sainz.
The Reds turned things around by scoring a 1-2 finish in FP2, Vettel set the fastest time on supersoft tires leading his teammate Raikkonen to end an accident filled session in style. Rosberg was the third quickest man leading Hamilton, Ricciardo, Verstappen and Force India's Hulkenberg. Hamilton will drop five places on the grid tomorrow due to a gearbox-change penalty.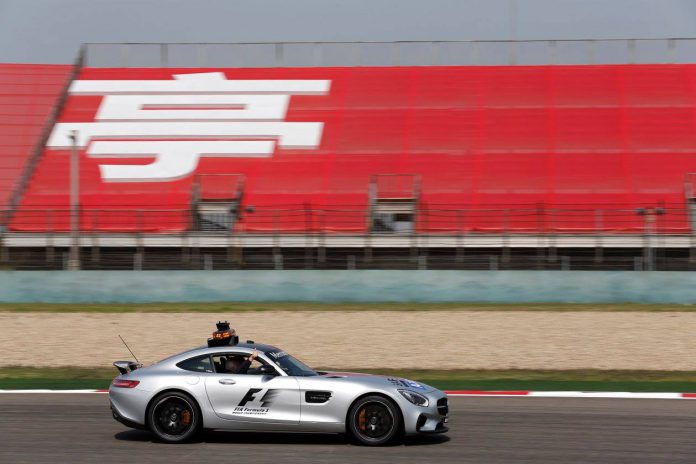 A rain hit FP3 session on Saturday morning prompted most drivers to sit in their garages so as to save the intermediate tires for qualifying. Ferrari's Vettel managed to set the fastest on 1m 57.351s, he was followed by Williams Valtteri Bottas and Force India's Sergio Perez. A total of eight drivers did not set times in this session including Hamilton, Rosberg, Button, Alonso and Grosjean.