Audi have celebrated the world debut of the Audi R8 Spyder at the 2016 New York International Auto Show this week. The open-top variant of the R8 is the last addition to this generation's R8 lineup, special editions aside. We headed over to the Audi stand to see what a roofless version of the current Audi R8 looks like.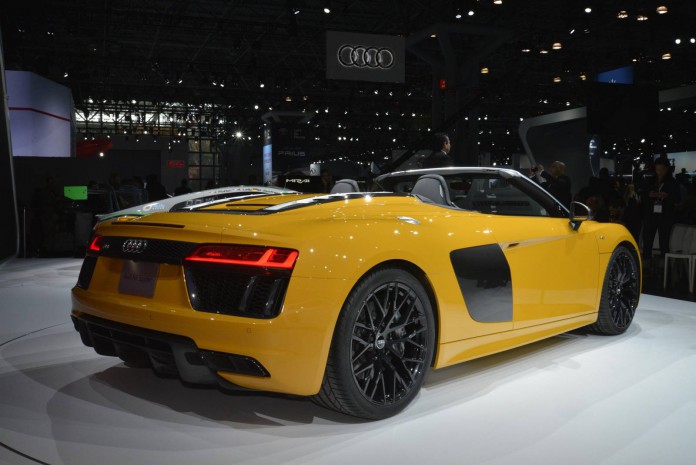 The Audi R8 Spyder comes standard with Quattro AWD, so power from its 540 hp-strong 5.2-liter naturally aspirated V10 is diverted to all four wheels via the seven-speed S-Tronic dual clutch automatic transmission. The naturally aspirated V10 that we know from the 2016 R8 Coupé and the Lamborghini Huracàn produces a further 540 Nm of torque, which is good for a rush to 100 km/h in 3.6 seconds.
The 200 km/h mark is reached in 11.8 seconds and the R8's final top speed is set at 318 km/h. With the R8 Coupé receiving a V10 "Plus" model with 610 hp, it remains unclear whether the Plus trend will find its way to the new Audi R8 Spyder.
At the Audi stand in New York we're looking at a "Vegas Yellow" Audi R8 Spyder looking slightly more mature than the previous generation R8 Spyder. The 2017 R8 Spyder has an all-around wider appearance, which can be attributed to the edgier design language and the fact the Spyder has grown 36 millimeters in width compared to its predecessor.
Visual changes compared to the R8 Coupé are minimal, with the most obvious change being the black strip between the taillights and naturally the soft-top roof. The soft-top weights in at just 44 kilograms and makes for quick opening and closing. It takes just 20 seconds to open or close the roof at speeds until 50 km/h. Three colors are available for the contrasting soft-top: Black, brown and red.
An extensive option list let's customers make their Audi R8 Spyder stand out more, listing 19- or 20-inch wheels, a carbon ceramic braking system, front spoiler and diffusor. For more information on the 2017 Audi R8 Spyder, please read our earlier article. Stay up to date on our coverage of the 2016 New York International Auto Show by subscribing to our dedicated news channel.