Absolute highlight of Mercedes-Benz' five world premieres at the 2016 New York International Auto Show is the new Mercedes-AMG C 63 Cabriolet. The V8 powered C-Class convertible is the last piece to the puzzle of the current C-Class AMG line-up. We went over to take a detailed look at the roofless C 63 AMG.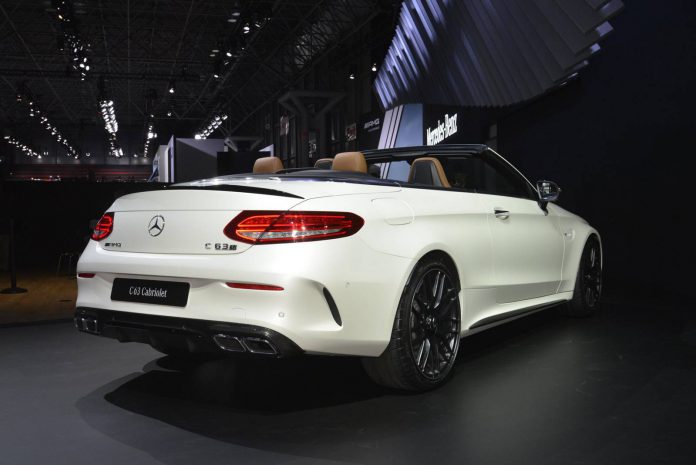 The C 63 badge stands for the powerful 4.0-liter V8 Biturbo, housed under the hood of this sporty convertible. Producing 476 hp (350 kW), or 510 hp (375 kW) when speaking about the C 63 S, power is distributed to the rear wheels via the AMG SPEEDSHIFT MCT 7-Speed sports transmission.
The speedy convertible's performance figures read zero to a hundred in just 4.2 seconds (4.1 seconds for the C 63 S) and an electronically limited top speed of 250 km/h. The limiter can be optionally raised to 280 km/h when selecting the AMG driver's package on the option list.
Both comfortable and dynamic driving are guaranteed through the AMG RIDE CONTROL adaptive suspension that is based on Mercedes' air suspension system. Suspension can be updated by ticking a few boxes on the option list, which also offers a rear-axle limited-slip differential and dynamic engine mounts at an extra price. Customers that don't mind spending a few extra bucks have the option of going for the C 63 S, that features all that option list goodness as standard.
2017 Mercedes-AMG C 63 Cabriolet
The new Mercedes-AMG C 63 Cabriolet has a wider appearance due to its body width being increased by more than 60 millimeters at both the front and rear. The C 63 styling package includes a twin—blade radiator grille with AMG badge and custom side skirts.
The car's soft-top is shared with the regular C-Class cabriolet and the C 43 Cabriolet, opening and closing in 20 seconds at speeds up to 50 km/h. Highlights in the interior include the highest quality ARTICO man-made leather interior packages as well as optional fancy details such as the iconic IWC clock in the mid-console.
For more detailed information on the new Mercedes-AMG C 63 Cabriolet and C 63 S Cabriolet, make sure to read our earlier article. For more news on the 2016 New York International Auto Show, make sure to subscribe to our dedicated news channel!
Mercedes-AMG C63 S Cabriolet
[Photos by Yiyang Lin]