The Koenigsegg Regera has been revealed in production specification at the Geneva Motor Show 2016. The new megacar is crammed full of technology, heralding in a new era for Koenigsegg.
The Koenigsegg Regera was introduced in concept form at the 2015 Geneva Auto Show last year. Since then, Koenigsegg have received huge amounts of interest and have taken numerous customer orders. Meanwhile, development has forged ahead so the Regera is now close to production heady.
The Regera weighs in at just 1,590kg with all its fluids. Dry weight is 1470kg. The Koenigsegg Direct Drive system receives some enhancements with a new clutch-slip mechanism that uses the hydraulic coupling to convert torque at medium/high speeds during fast acceleration.
Koenigsegg res an 800 volt, 4.5kWh battery pack. It is capable of providing 525kW of discharge and up to 200kW of recharge. The cells are hand built to provide improved performance and regenerative capability. They save 25 kg over the concept and weigh just 90 kg. 0 to 300 km/h takes just 10.9 seconds.
Overall, the Regera produces 1,500+ hp output, 2000+ Nm of torque. o to 100 km/h is possible in 2.8 seconds, 0-200 in just 6.6 seconds and 0-300 in 10.9 seconds. Koenigsegg estimate a 0-400 km/h time of 20 seconds and acceleration from 150 to 250km/h takes just 3.9 seconds.
Koenigsegg have replaced the engine mounts from the concept. The battery pack gets a new external high voltage DC charger, smaller 800V AC compressor and a new bespoke and lightweight 800V DC/DC converter. Another unique feature is the 'Autoskin' function which allows the driver to open the doors and front and rear hoods remotely using a lightweight hydraulic system. The wing mirrors now fold automatically and a proximity sensor helps to avoid crunching the door.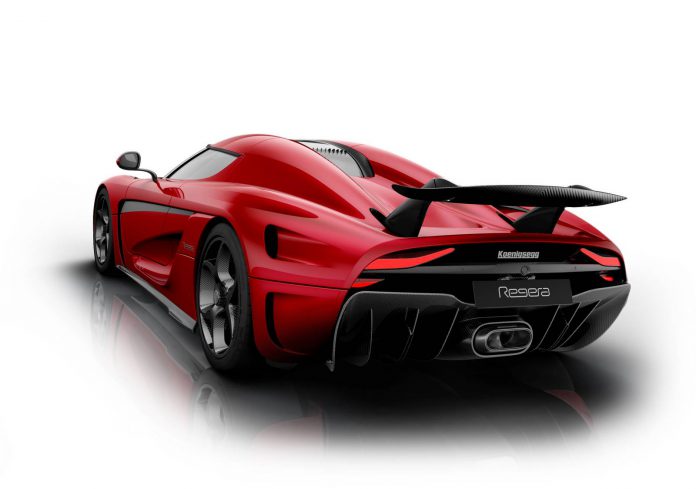 The car gets a rear camera and side door cameras with the option of a forward facing camera. Apple CarPlay is standard and the Regera gets WiFi functionality. The seats now feature heating and electronic adjustment. Deliveries are set to begin at the end of 2016.
For more from the Geneva Motor Show 2016, take a look at our dedicated news feed.