Acura used the worldwide stage of the Detroit Motor Show 2016 to showcase the return of their most iconic car, the Acura NSX. And our team was there to capture the new NSX in all its glory!
The 2016 Acura NSX features a 3.5-liter twin-turbo V6 engine that is mated to three electric motors to produce 550 hp. The gearbox features a 9-speed dual-clutch automatic transmission that will transfer the power to all the wheels. The 0 to 100 km/h time reportedly stands at 2.9 seconds. By using a hybrid powertrain, Honda is able to offer a new system called Sport Hybrid Super-Handling All Wheel Drive, which includes four different driving modes — Quiet, Sport, Sport+ and Track.
The first NSX will be sold later this month at the Barrett-Jackson Scottsdale auction. The final hammer price for VIN 001 will likely reach into the millions according to many experts. The showroom retail price for the NSX in the United States will be $156,000 for the base model. With options and dealer markups, the first batch of customers will likely be paying significantly more. Optional extras and packages on the NSX can total upwards of $50,000.
This display of the NSX marks the second time the NSX has been showcased at the Detroit Motor Show. The first time it was displayed was during its public debut at 2015's show.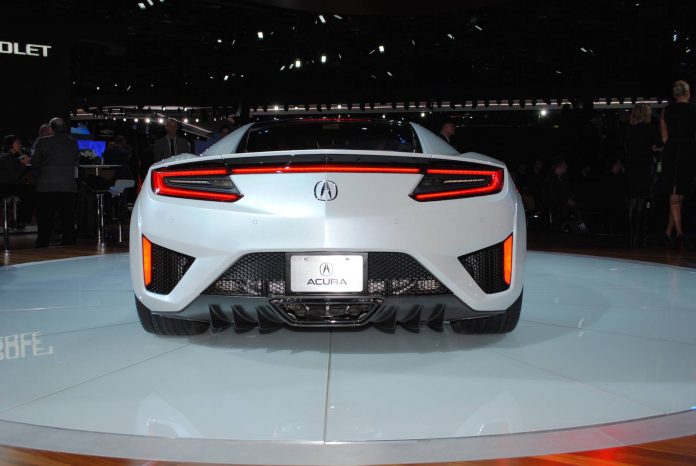 For more pictures from the Detroit Motor Show 2016, see our news channel.