The annual Stars & Cars event took place at the Mercedes-Benz Arena in Stuttgart, Germany. This was the first time the traditional Mercedes-Benz end-of-season celebration was held at a football arena and saw 35,612 spectators.
Former and current Mercedes-Benz drivers including Lewis Hamilton, Nico Rosberg, Sir Stirling Moss and Mika Häkkinen were in attendance and so were several pivotal executives like Toto Wolff and Jens Thiemer. Apart from giving interviews and interacting with the plethora of fans, the Mercedes-Benz entourage provided a lot of entertainment activities.
Demonstration laps of the 2015 Mercedes-Benz motorsport champions in their respective vehicles opened the event. The cars included the Mercedes-Benz F1 W06 Hybrid, the Mercedes-AMG C63 DTM, the Mercedes-Benz SLS AMG GT3 and a Dallara-Mercedes Formula 3- Racing car. A small track was set up in the stadium and saw the likes of former Williams test driver Susie Wolff and Niki Lauda doing rounds in different cars. Apart from that, The Stars & Cars Competition took place- probably the highlight of the night.
Mercedes-Benz Stars and Cars 2015
Featuring Hamilton, Rosberg, DTM drivers, Häkkinen, David Coulthard, Jean Alesi and Mick Schumacher, son of seven-time world-champions Michael Schumacher, a four-round tournament was held to determine the fastest driver among all of them. Each round saw a different car being handed over to the pilots- starting from the Mercedes-AMG A45 before moving on to the C63 S, AMG GTS and finally the SLS GT3.
Winner of this tournament was DTM driver Daniel Juncadella. Regarding the triumph, he stated: "I am overjoyed. I felt very comfortable in the SLS AMG GT3 and found a good rhythm. Stars & Cars was a great event, there were so many spectators here. Just incredible. I was really nervous at every race. That's something very special."
Meanwhile there were also performances by Cro, Culcha Candela, Marlon Roudette and Larry van Housen. In all, the night provided a fitting end to Mercedes-Benz, with the German automaker recording its best ever year in motorsport, winning numerous titles in Formula 1, DTM, Formula 3, GP3 Series and the AMG Customer Sports Programme.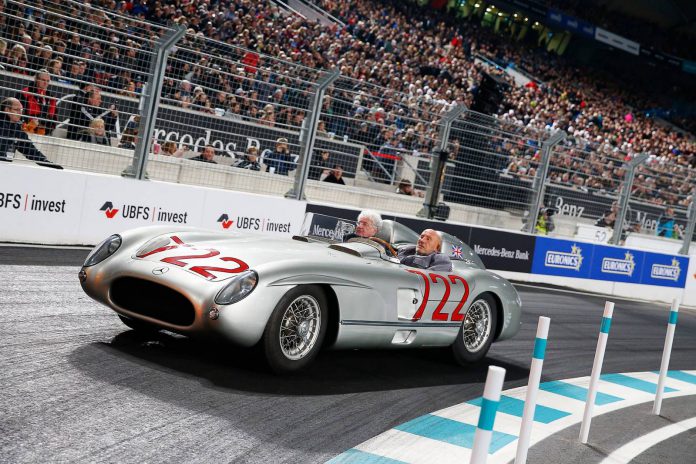 "Behind us lies an incredible motorsport year," Ola Källenius, Member of the Board of Daimler AG, said. "Everybody in racing is particularly involved passionately and always wants to win. But we had ourselves can not imagine in our wildest dreams that we would win in any race series in which we went this year to the start. As such, it was a fantastic year for us. Motorsport is incredibly important for Mercedes-Benz. Our brand was born on the racetrack, and this year the stars shone in the motorsports world as bright as ever. "