The Ferrari 488 GTB is one of the latest creations to come from the Italian city Maranello. It made this year's shortlist for the GTspirit.com car of the year award and has been subject to many tailored bodykits by car tuners since its first introduction.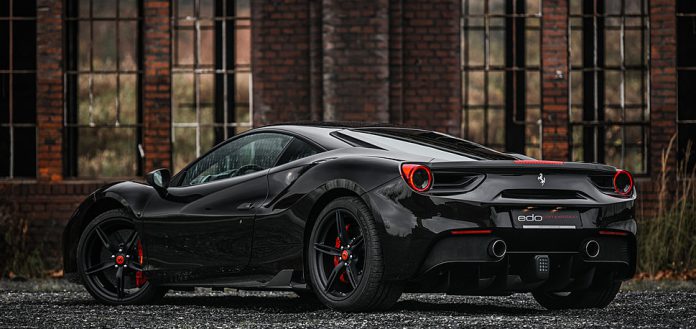 The 488 GTB features a 3.9 litre twin turbo V8 outputting 670hp and 760 N.m. of torque. In stock condition the sharp looking Ferrari is capable of a 0-100 km/h rush in just 3 mere seconds. Topping out at 330 km/h, we are excited what performance figures the upgraded Ferrari 488 GTB by Edo Competition will present us with.
Edo Competition Ferrari 488 GTB and Aventador
As seen on the photos, the Ferrari 488 GTB by Edo Competition poses along with a Lamborghini Aventador, also customized by the Germany based tuner. The photos reveal an intriguing combination of traditional 'black on black' styling, giving the Ferrari 488 GTB a stealth appearance. Both customized supercars were in the spotlight at the 2015 Essen Motor Show, the world's largest motor show specializing in car tuning.