Italian sports car manufacturer Maserati celebrated its 100 years of existence last year, with the Maserati Ghibli being one of its latest models. The big prime that came with the introduction of the Ghibli, was Maserati's first diesel engine with an output of 275hp and 600 N.m. of torque. HS Motorsport in partnership with JMS Fahrzeugteile from Germany have now introduced a full tuning package complimenting Maserati's latest sports car.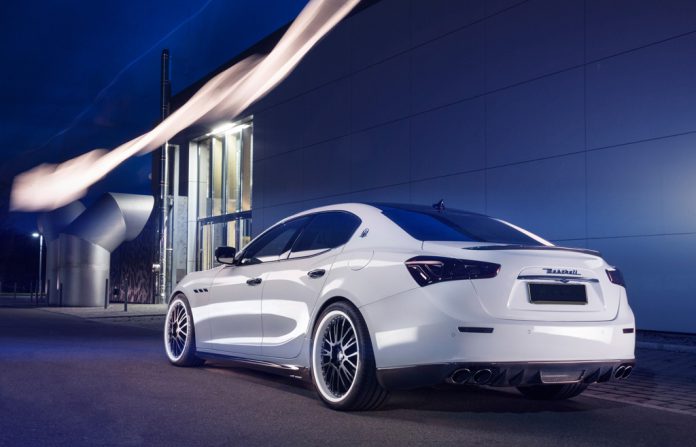 The exterior package comprises of a lip approach, front bay insert, side skirts and both a rear diffusor and rear wing that originally come from the G&S Exclusive tuning program for the Maserati Ghibli. All exterior components are available in both carbon and GFK versions.
Furthermore the door handles, air intakes in the fenders, capping strips, exterior mirror caps and the front grille are also trimmed with a carbon finish, courtesy of HS motorsport and JMS fahrzeugteile.
Maserati Ghibli by HS Motorsport
For the 3.0 litre diesel engine a power ramp is offered that increases the power output from 275hp / 600 N.m. to 320hp and 680 N.m. of torque. The 3.0 litre petrol engine of the Maserati Ghibli S / Ghibli S Q4 receives an upgrade that increases the power output from 410hp / 550 N.m. to 476hp and 650 N.m. of torque respectively.
With the power upgrades comes a stainless steel sports exhaust that features valve control. Finally there is the option to upgrade the suspension to a KW variant 3 coilover with separately adjustable compression and rebound damping or the Ghibli series shock absorbers that are tuned with KW-sport springs.