The first Aston Martin Vulcan has arrived in the United States and was on show at the company's outlet in Cleveland for a couple of days. The hypercar is finished in red colour and costs $2.3 million. Northeast Ohio car tycoon Bernie Moreno acquired this track only Aston Martin – Moreno also owns Aston Martin Cleveland.
As we already know, the Vulcan is Aston Martin's track-legal hypercar set to compete with the Ferrari FXX K and the McLaren P1 GTR. Its production is limited to 24 units and all of them have already been sold out. It was first showcased at the Geneva Motor Show 2015.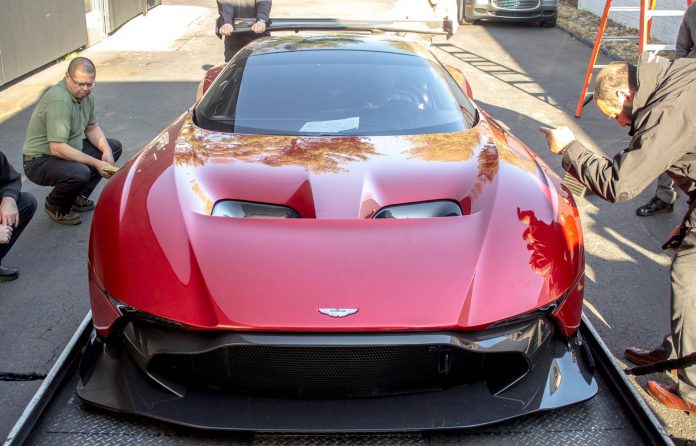 Powering the Vulcan is a 7.0-litre naturally aspirated V12 engine that is capable of producing in excess of 800 hp (600 kW). A six-speed sequential gearbox transfers the power to the rear wheels of the car. The Vulcan weighs just 1350 kg. Customers get 19-inch Michelin tyres, Brembo brake system, carbon fibre bucket seats and a dashboard supplied by Cosworth Omega. Vulcan owners will also be part of a comprehensive three-year owners' program that will allow them to drive the hypercar at tracks like Paul Ricard (France), Silverstone (UK), Spa (Belgium) and Yas Marina (Abu Dhabi).
For more details on the Aston Martin Vulcan, see our earlier post here.