For SEMA 2015, renowned American tuning company Roush has unveiled its latest sixth-generation Ford Mustang outfitted with the firm's TrakPak.
Details about the new Roush Mustang are limited including just what mechanical modifications it has undergone but we expect such details following the vehicle's SEMA debut. In the meantime, we're told it produces in excess of 850 hp and it seems logical that that power comes courtesy of a large supercharger installed with the Mustang GT's 5.0-litre V8 engine.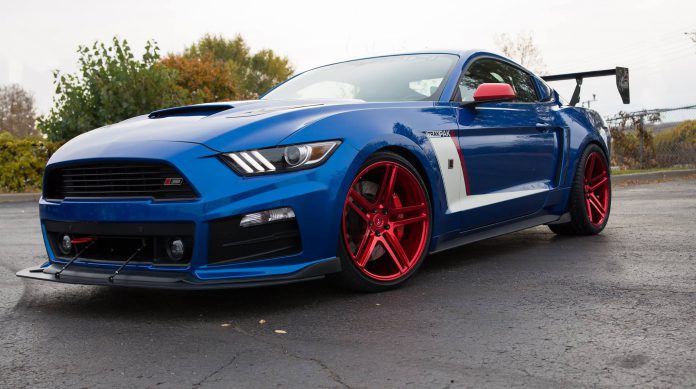 Elsewhere, these pictures reveal that the latest Roush Ford Mustang includes a selection of custom visual and aerodynamic components including a prominent front splitter, extended side skirts, a menacing diffuser and a massive rear wing which towers over the car like the Burj Khalifa overlooks Dubai.
Additionally modifications include 20-inch forged VPS-302 wheels from Vossen with a candy apple red finish and a twin five-spoke design. The wheels have been wrapped in grippy Pirelli P Zero tyres.