Andreas Bakkerud won the penultimate round of the 2015 FIA Rallycross season at Italy RX in Franciacorta today.The Ford Olsberg MSE driver took the lead in the final heat after beating semi-finals winner Johan Kristoffersson in the first corner. Kristoffersson finished second in his Volkswagen Team Sweden Polo RX Supercar ahead of reigning champion Petter Solberg.
Solberg is now a few points away from winning his second consecutive FIA World RX championship. The season finale in Argentina will decide the winner of this year's championship – Solberg leads the standings with 279 points away from Timmy Hansen's 253 points and Kristoffersson's 228 points.
Both Solberg and Kristoffersson won one hit each on day one placing the Citroen driver in the lead. After four heats, Kristoffersson and Hansen ranked first and second respectively. The Swede started the semi-finals 1 in the front row alongside Solberg who had incurred a penalty for jumping the start and missing the joker lap. Hansen started semi-final 2 in the front row alongside Andreas Bakkerud.
Debuting his new Kia Rio RX, Italy's Gigi Galli retired after his car developed problems with the oil pressure. Unfortunately, his team did not have a spare engine forcing them to retire in front of the home crowd.
In the final heat, the battle was left out to Kristoffersson – who started from pole – and Andreas Bakkerud. Solberg was not feeling well but the reigning champion fought hard enough to secure additional points to extend his lead over Peugeot's Hansen. Bakkerud managed to play his cards well and took his joker lap on the last lap before winning his first World RX race since Turkey last year.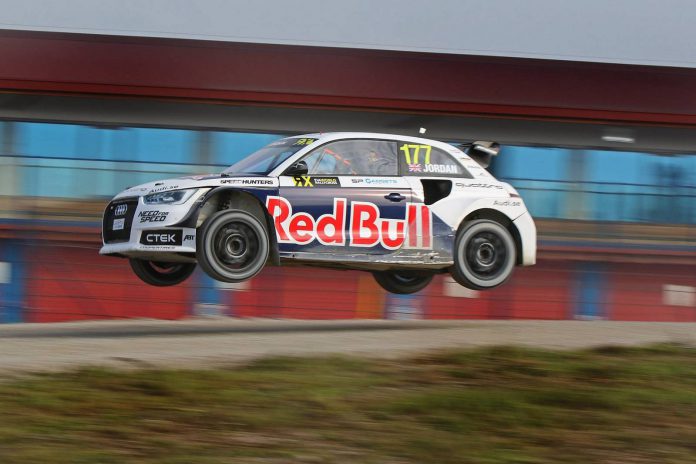 Timmy Hansen crashed out in the semi-final 2 meaning Solberg would have won the championship of he had finished first. Anton Marklund finished fourth behind Solberg and ahead of former WRC driver Manfred Stohl. Timur Timerzyanov rounded off the top six.
The 2015 World RX season finale will take place in Argentina on November 27.