The very impressive Brabus Mercedes-AMG GT S has been revealed at the IAA Frankfurt Motor Show 2015 alongside a range of other Brabus products. Based around Mercedes-Benz's latest sports car, Brabus's newest project is the most comprehensive upgrade package so far released for the AMG GT. We checked it out in person.
From a performance standpoint, Brabus has developed the PowerXtra B40 – 600 performance kit for the German sports car. It is a plug-and-play control module designed to operate in conjunction with the car's 4.0-litre twin-turbocharged V8 engine. It helps provide an additional 88 hp and 74 lb-ft of torque bringing the vehicle's total outputs to 591 hp at 6400 rpm and 553 lb-ft at 4800 rpm. Thanks to these upgrades, the Brabus Mercedes-AMG GT S accelerates to 100 km/h in just 3.6 seconds as well as a 325 km/h top speed, up 15 km/h over standard.
Beyond the engine and exhaust changes, the Brabus AMG GT S also features a number of new aerodynamic parts made from carbon fibre. At the front, a new Brabus splitter has been installed which not only adds to the vehicle's aggression, but also reduces front axle lift. New side air intake covers of the bumper have also been fitted to provide the sports car with a menacing persona.
Inside, Brabus has developed carbon scuff plats with a backlit Brabus logo. There are also matte anodized or chrome-plated aluminium pedals as well as new aluminium paddle shifters. New leather and alcantara elements also adorn the cabin.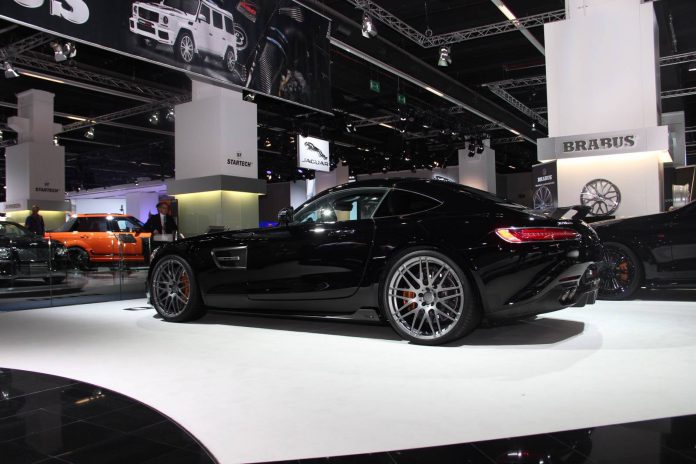 For more about the Brabus Mercedes-AMG GT S, see our dedicated post. For more from the IAA Frankfurt Motor Show 2015, see our live news channel.