Audi have released the Audi e-tron quattro concept for the IAA Frankfurt Motor Show 2015. It is a high performance electric SUV which demonstrates the potential for Audi's e-tron system. Many are saying that this concept is aimed squarely at the upcoming Tesla Model X. It certainly looks the part!
The e-tron quattro concept is all about the drive. It features one electric motor which drives the front axle and two others which drive the rear axle. This creates a total output is 320 kW or 370 kW and over 800 Nm (590.0 lb-ft) of torque while on temporary boost. Performance is pretty staggering, as you would expect. From standstill to 100 km/h (62.1 mph) takes just 4.6 seconds and terminates at an electronically governed top speed of 210 km/h (130.5 mph).
With the lithium-ion battery, the concept is capable of travelling 500 kilometers (310.7 mi) on just 50 mins of charge. Audi Wireless Charging technology takes slightly longer and the in-built solar roof provides electricity for the drive system battery on sunny days.
The e-tron quattro concept gets an intelligent drive management system with various levels of recuperation. It gets torque vectoring to control the distribution of power. The gearbox offers two driving modes, Drive and Sport. The entire drive system is said to be usable in future Audi models too. You could see this drivetrain in future Audi models!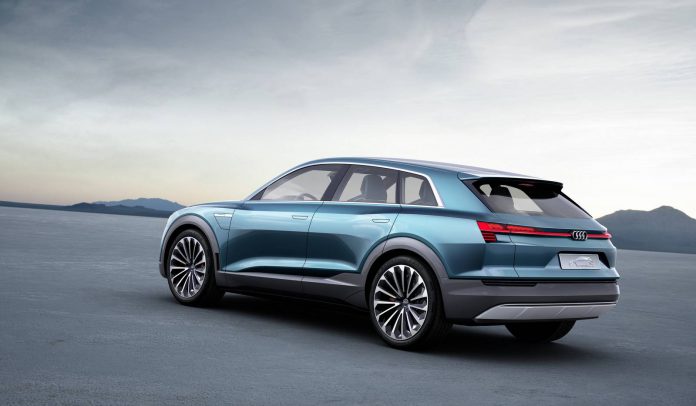 Front-to-rear weight distribution is 52:48 and the quattro concept sits upon the MLB platform, soon to debut in the new Audi Q5. The suspension is a five-link design both front and rear with self-leveling air suspension all round. Essentially we are looking at the new Audi Q5 with some very intelligent drive systems incorporated into the platform.