Aston Martin drivers Jamie Chadwick and Ross Gunn have become the youngest driver pairing to win the Avon Tyres British GT Championship GT4 title after a nail-biting finish at Snetterton.
The pair, in their Beechdean AMR entered Aston Martin Vantage, have won the title with a 38.5 point advantage going into the final round at Donington Park – where only 37.5 points are available for a race win.
Coming in at a combined age of 35 years and 330 days, Jamie and Ross's achievement is made even more remarkable considering they are both in their very first year of GT racing.
Jamie, who at 17 years and 95 days old is also the youngest ever driver to win a British GT title, said, "We didn't really expect it after Race 1 but I guess conditions played into our hands a little bit. Needless to say I'm absolutely delighted, and to do it a round early is the icing on the cake. Those stats are a bonus, though. I'm here just to race and hopefully win. Ross has done a formidable job and I'm delighted with how it's turned out, but to be the youngest and first female is just a nice extra.
"I wasn't really expecting this after stepping up from Ginettas, although we knew coming in with Beechdean and the credentials they have would put us there or thereabouts. But at the end of the day it was up to Ross and I to deliver. It was evident straight away what amazing pace he had and we clicked quite quickly. I think halfway through the season, with those two wins under our belt, we knew it was about being consistent. The Aston Martin's reliability played into our hands, too. To win it is just unbelievable and awesome!"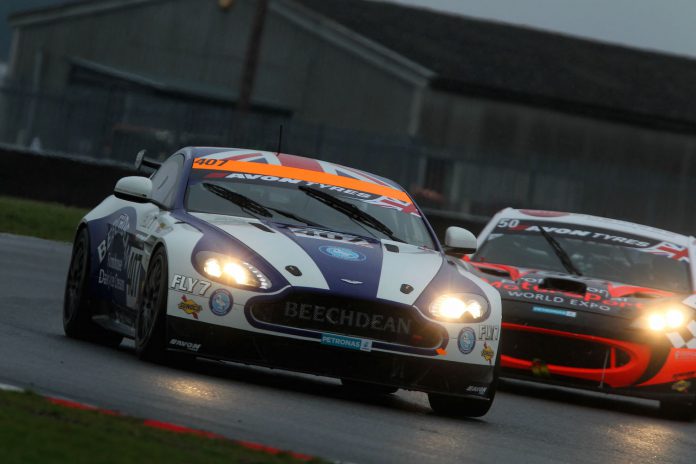 The previous youngest driver, Johnny Cocker, was almost a full year older than Chadwick at 18 years and six days when he won the NGT title in 2004.
Ross Gunn himself isn't that much older than Cocker, at 18 years and 235 days, and praised the Beechdean crew for their faith in the former BRDC F4 driver.
"It's quite unbelievable," he said. "All the hard work we've put in throughout the year has been leading up to this. I'm absolutely over the moon. We've been in the mix all year, which I have to say comes down to the efforts of Aston Martin Racing and Beechdean AMR who have given us an incredibly reliable and quick race car. I also need to say a big personal thanks to Andrew and Susie Howard who took me on at the start of the year when I had absolutely nothing. From where I was to now is a dream, a real dream."
It is the second time in two years that Beechdean AMR have won the GT4 title, with Ross Wylie and Jake Giddings winning the crown in 2014.