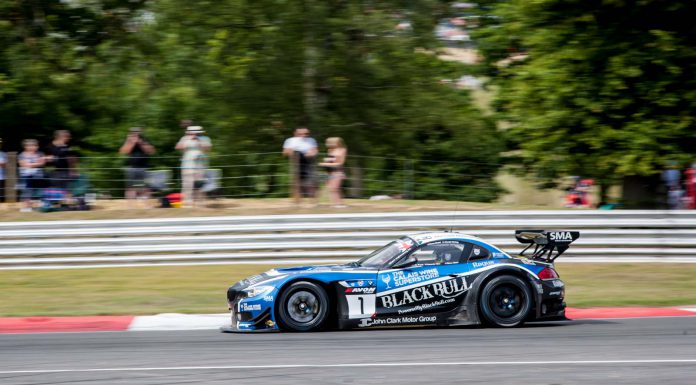 Brands Hatch played host to the 5th round of the British GT. With only three rounds remaining everything was to play for. After qualifying, the GT3 pole was taken by No 007 Beechdean Aston Martin driven by Andrew Howard and Johnny Adam. The GT4 pole was taken by the No 48 Fox Motorsport Ginetta driven by Paul McNeilly and Jamie Stanley. This was the teams first pole position in British GT.
The two hour race started with a rolling start and included one mandatory pit stop after fifty minutes of racing. The top three contenders all remained in their position after the first lap. #007 Beechdean Aston Martin in first, #888 Triple Eight BMW in second and #10 Von Ryan Racing Mclaren.
#10 McLaren driven by Ross Wylie was fighting for second position with the #888 BMW. However with only ten minutes raced, he lost control of the McLaren whilst attempting an undertake dropping him down into 13th position. There was more drama for Ross Wylie #10 McLaren when it collided with #22 Mercedes driven by Jones.
The GT4 Pole position taken by #48 Fox Motorsport Ginetta had their lead cut short after contact on lap ten that forced the Ginetta into the gravel. This ended their chance of gaining a win from Pole. The GT4 was then being lead by #61 Academy Motorsport Aston Martin driven by Will Moore.
The leaders of the race #007 had to complete a 20 second pit stop due to a penalty served for the race held in Spa. This resulted in #888 BMW taking the lead ahead of #006 Aston Martin and #1 BMW. GT4 leaders also changed once their pit stop was completed #50 Ginetta took over the lead ahead of #61 Aston Martin. This lead was also short lived when #56 managed to gain the lead after a fantastic race and a couple of safety car stints helping their cause. David Pattison and Luke Davenport managed to climb from ninth in GT4 to a staggering first, showcasing the talent that Davenport has in the Tolman Motorsport Ginetta.
The lead held by #888 was fought for but with 8 minutes remaining, #001 Ecurie Ecosse BMW managed to pass and pull a gap ahead of second place #888 BMW.
The action packed two hour race ended with #001 BMW taking the race win ahead of #888 BMW in second and #17 Aston Martin in third.
GT4 was won by #56 Ginetta who was fifteen seconds ahead of #50 Ginetta and third went to #407 Aston Martin.