One million pounds, or euros if that's more your thing. It's a large sum of money and what, obviously, makes you a millionaire. The lottery, Who Wants To Be A Millionaire, The Secret Millionaire – mankind and materialism seems to fixate themselves on millions. 'What would you do if you had a million?' – a question I've been asked at job interviews, by family, friends and even by total strangers. If any of us thought logically and realistically – with logic if you will, it would only make sense to invest a vast sum and live a life of luxury whilst the rest worked for you. So, for arguments sake, lets invest half. £500k – still a vast sum of cash. If you're reading this chances are you would like to buy a car or two – Carrera GT, Lexus LFA, McLaren SLR, there is a lot £500k will buy you. What would I do? Well, I would have purchased one of the aforementioned super/hypercars, that was until I got an insight into the playground of the rich adrenaline junkie.
British GT is, as the name suggests, a British racing series that focuses on GT3 and GT4 racecars. What is means is that anyone with a passion for speed and pockets stuffed with cash can buy a GT3 car and enter the top tier of British GT. Which GT3 car would I have? Funny you should ask.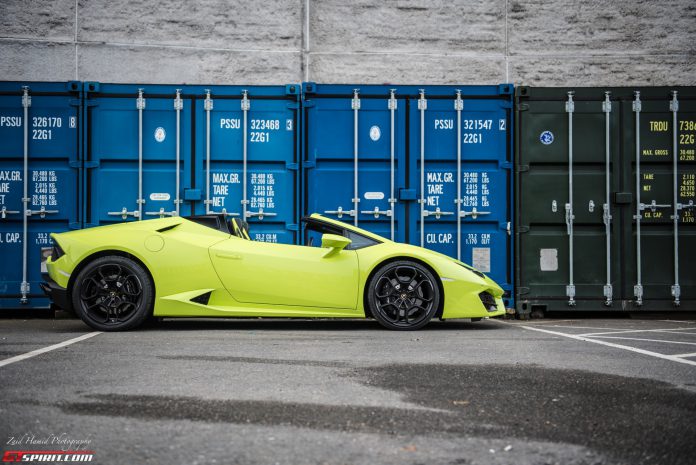 I had the keys to a Lamborghini Huracan LP 580-2 Spyder for a few days and, as you can tell from my review, I rather liked it. It does it all – grabs attention, cruises in unparalleled style, the V10 howls like a bear you called chubby and it decimates winding roads. It was fantastic, but I could not feel I was scratching the surface of it's potential. As great as it is on the road, it's not a track car at heart. The solution? Well, the 580-2 is approximately £170,000 leaving me with £330,000 of my imaginary money left. Lamborghini makes a GT3 car called, creatively, the Lamborghini Huracán GT3 that comes in at…£330k. What this means is that you can have one of the best road going supercars on sale alongside one of the finest track toys for half a million pounds.
Despite one being a stripped out racecar and the other wearing numberplates, the similarities between the two are apparent – no bad thing. V10 racecars, like the roadcars are an absolute joy and like the 580-2, the GT3 car is also rear wheel drive. Happy days! The joy of GT3 cars is that they really do look like their road going sisters. Aerodynamics is where the differences really are obvious. Giant rear wings, diffusers that travel half way up the rear of the car, exposed mechanical components and holes and scoops that channel air over the car to help the racing slicks stick.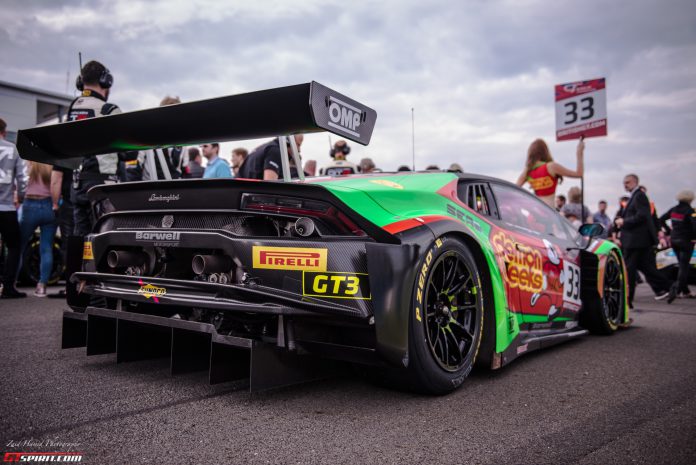 There is a roadcar underneath it all, but it's as if an 11-year-old child let his imagination lose. It's not just the Huracan either, I'm at Donnington for a Birtish GT race. There are a spattering of Huracans joined by Bentley GTs, Mercerdes-AMG GTs, Aston Martins McLarens and Nissan GT-Rs among others and the philosophy is the same – racecars inspired by roadcars and the results are dramatic. These are, without a doubt, the most menacing racecars on the planet.
They don't just look the part either. There are rules and regulations that make the racing just as incredible. If you look at the power figures, all GT3 cars are limited to around 550 horsepower and drivers are handicapped for being on the podium in previous races with additional time being added to pitstops to make sure the racing in close and the pack stay close together. It may seem bizzare but the results speak for themselves with close racing from beginning to end.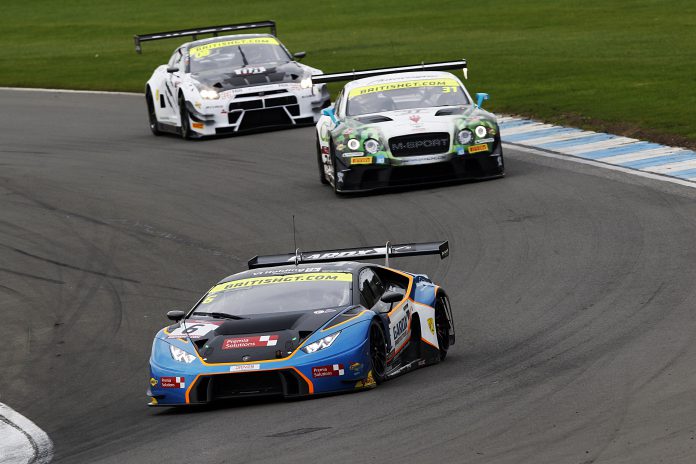 Back to me and my Huracan. It had been fitted with Pirellis latest P Zero, a tire renowned for its abilities in all conditions and its performance on supercars such as the Huracan. Being rear-wheel-drive the 580-2 was the best way to put the compound through it's paces and, as I expected, it didn't let me down. It was remarkable to be at Donington and to see the P Zero brand on the sidewalls of the Pirelli tyres up and down the British GT grid. Pirelli are the sole supplier of the series.
Tyre manufacturers are quick to state that they develop their road tyre using technology they first use on track. What better way to understand how to create a performance tyre that to be able to use data captured from a racing series using cars based on roadcars? The links are clear to see, Pirelli push the boundaries to be the best in racing series like Formula 1 and British GT before doing the same on the road with tyres on cars Like the Huracan I was piloting on the street. I even got to take the Huracan onto the circuit for a couple of laps. Having barely got heat into the compound it was apparent that the rubber was sticky enough to handle serious lateral G in the high-speed corners and dizzying elevations of Donnington, mighty impressive given that the P Zero is not the track focused tyre. A very well rounded tyre and one that is worthy of any supercar on road or track. It is no surprise that the Italian tyre manufacturer is fit to be the sole supplier of such a demanding racing series.
All that remains is for me to find my million pounds!