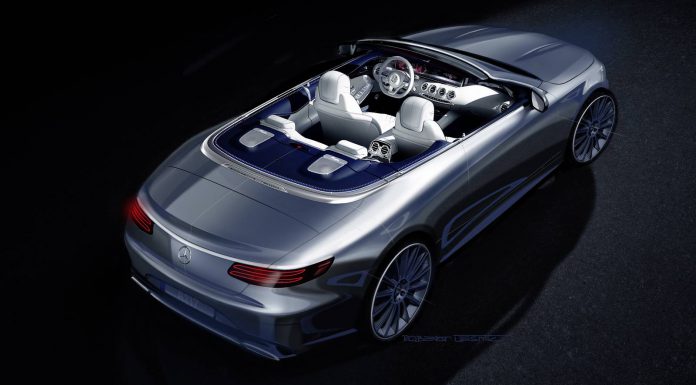 Mercedes-Benz has just released a design sketch of the upcoming S-Class Coupe Cabriolet before the vehicle's debut at next month's IAA Frankfurt Motor Show 2015.
This design sketch of the car reveals what recent spy shots have been hinting at; a very sleek design inspired by the S-Class Coupe but with the implementation of a folding fabric roof. With the exception of the new roof design, the Mercedes-Benz S-Class Coupe Cabriolet looks essentially identical to the Coupe from the front, sides and rear. Consequently, the automaker has actually included the word 'Coupe' in its name.
The example pictured here features a dark blue and white leather interior with the blue leather stretching behind the rear headrests onto the vehicle's decklid.
This will be the first time the S-Class has ever been available cabriolet configuration and when the car does launch, it will essentially be in a class of its own. The less technically advanced Bentley Continental GTC, Rolls-Royce Phantom Drophead Coupe and upcoming Rolls-Royce Dawn will be its closest rivals.
The Mercedes-Benz S-Class Coupe Cabriolet will complete the S-Class lineup as the 6th model following the S-Class limousine in short and long wheelbase configurations, S-Class Coupe, Mercedes-Maybach S-Class and the recently revealed S-Class Pullman. The S-Class Cabriolet will feature the same engine line-up as its coupe sibling. Consequently, the S63 AMG Cabriolet will be powered by the same twin-turbocharged V8 as the coupe and sedan.