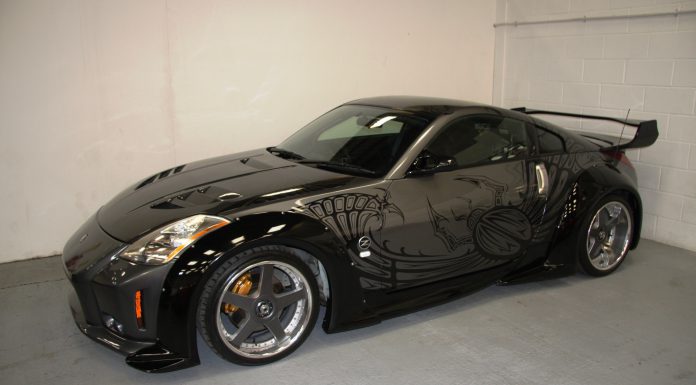 A 2002 Nissan 350Z that featured in The Fast and the Furious: Tokyo Drift is up for sale at Cheshire Classic Cars in Chester, U.K. for £149,995. It was driven and owned by Takashi (also called "DK" or "Drift King") in the movie and has covered nearly 15,000 km (9,800 miles) on the odometer. The new owner will get a full documentation "proving" the car's history.
The vehicle is fitted with Veilside Version 3 Wide bodykit and an APS twin-turbocharged engine, which produces 430 hp (150 hp more than the stock 350Z) and 569 Nm (420 lb-ft) of torque. This power is handled by NISMO twin-plate clutch and two-way differential. That said, the dealership has offered to retune the 350Z to a more standard specification.
Even though it's road-legal, the sports car looks quite tacky owing to the heavy cosmetic modifications. However, being a film star car, its value is expected to increase over the years and hence, it could be a good investment. Recently, Paul Walker's Supra fetched nearly £120,000 ($185,000) at a Mecum Auctions event.
Cheshire Classic Cars was founded in 2004 by Iain Tyrrell, who has worked extensively on vehicles from makes like Aston Martin, Bentley, Ferrari, Jaguar, Lamborghini, Maserati and Rolls-Royce. The car dealership provides sales, service and restoration of classic, competition and high performance cars.
[Via Cheshire Classic Cars]