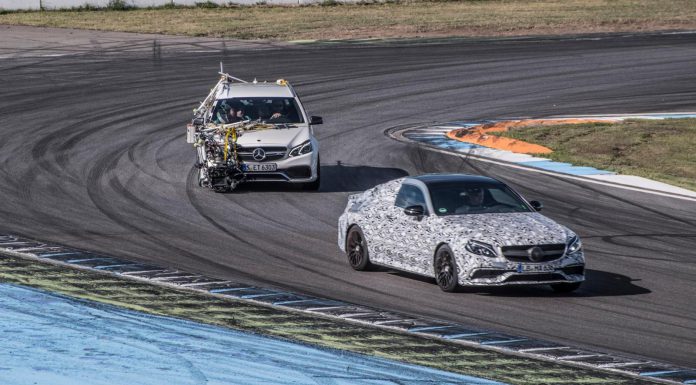 A selection of new teaser images of the upcoming Mercedes-AMG C63 Coupe have just been released before the vehicle's world debut at next month's IAA Frankfurt Motor Show 2015. These teaser shots provide us with a behind-the-scenes look at the shooting of the prototype's previously released preview clip.
While the prototype pictured is adorned heavily in camouflage, previously-spied test mules have already given us an indication of how the C-Class Coupe will look. With that in mind, taillights clearly reminiscent of those from the S-Class Coupe will be installed. As for the AMG-modified C63 variant, it will receive a prominent bootlid lip spoiler, a more menacing rear bumper as well as the German firm's traditional squared quad-exhaust layout.
Obviously powering the Mercedes-AMG C63 Coupe will be the same 4.0-litre twin-turbocharged V8 engine as the sedan. Consequently, the Coupe should be offered in both AMG and AMG S guises with power ranging from 469 hp in the entry-level model to 503 hp in the range-topping C63 Coupe S.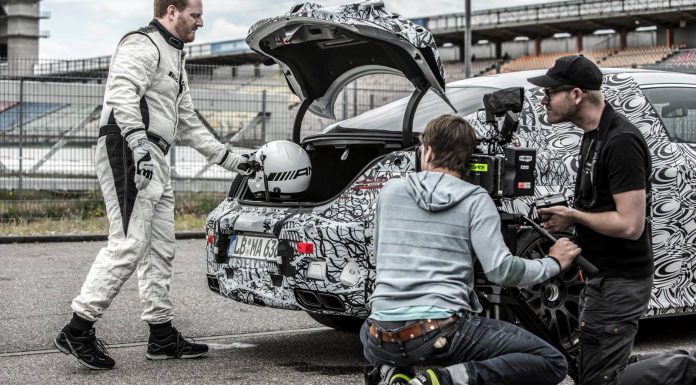 More generally, it was recently announced that the German marque has lowered the roofline of the new C-Class Coupe by 1.6 inches compared to the outgoing model. While that would generally result in less headroom for rear passengers, the automaker opted for pushing the rear seats forward and dropping them be almost an inch to ensure the rear remains usable. This decision also means that the centre of gravity of the new C-Class Coupe will be lower than it currently is therefore aiding in handling.