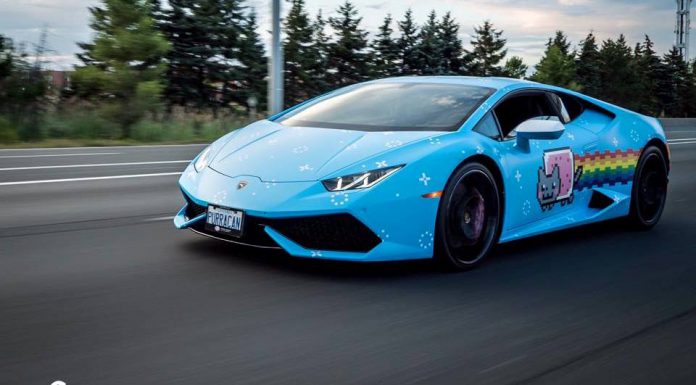 Canadian DJ Deadmau5 (aka Joel Zimmerman) recently revealed his Lamborghini Huracan with a Nyan Cat wrap. Deadmau5 did a similar transformation to his Ferrari 458 Italia in 2014, which resulted in a cease-and-desist letter from the Italian company because of the custom badges and floor mats when he tried to sell the car.
Consequently, he stripped the Ferrari and then sold it before acquiring a Lamborghini Huracan in May 2015. This was after Deadmau5 was offered a Nyan Cat-themed GT-R by Nissan. Nonetheless, even before taking the delivery of the Lamborghini, Zimmerman had announced that he was planning to give his new supercar the Nyan Cat livery, just like the 458 Italia. And it didn't take him long to do so.
Sekanskin, the company that wrapped Deadmau5's 458 Italia and now the Huracan, has put up some more pictures of the Lamborghini after the first batch of images were unveiled a few days back. Lamborghini seem unfazed by Deadmau5's actions, much to the his delight.
Apart from the Lamborghini Huracan, which has been now renamed the the 'Nyanborghini Purracan', Deadmau5 also owns a matte black McLaren P1, a McLaren 650S Spider and a Bentley Continental GT which is his daily driver. Despite only getting a license in his native country at the age of 32, the DJ is a prominent car enthusiast, having also taken part in the Gumball 3000 Rally.