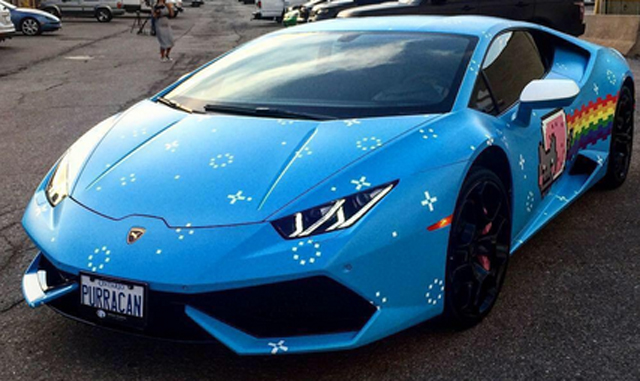 Last year, Canadian DJ Deadmau5 (Joel Zimmerman), captured the world's attention by unveiling his Ferrari 458 Spider wrapped in a theme inspired by Nyan Cat. Not pleased with the vehicle's transformation, Ferrari USA sent a threatening letter to the DJ. Before long, his 458 was sold.
Soon after, Zimmerman picked up the keys to a McLaren 650S Spider and then earlier this year, took delivery of a Lamborghini Huracan with the intention of wrapping it exactly like his 458 Spider. Well now, deadmau5 has unveiled his completed Huracan alongside naming it the Nyanborghini Purracan.
As with the 458 Spider, deadmau5's Huracan features an identical wrap combining ski blue with the infamous 8-bit cat flying through space leaving a rainbow in its wake. Beyond the wrap, the car is rolling on a set of stunning gloss black wheels.
While Zimmerman's Huracan is undeniably eye-catching, it isn't quite as exceptional as his bespoke matte black McLaren P1!