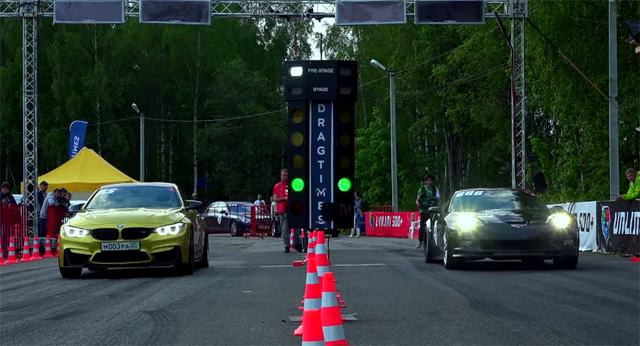 The results of pitting together a 550 hp BMW M4 and a 720 hp Chevrolet Corvette ZR1 may seem obvious. Surely with almost 200 hp more, the Corvette ZR1 would wipe the floor with the M4 in a 1 km sprint. That's not what happened at the most recent Unlim 500 + drag racing event in Russia however.
[youtube]https://www.youtube.com/watch?v=thc4oDLlDoM[/youtube]
As the video above shows, the German sports car manages to out accelerate the Corvette ZR1 on both runs and the ZR1 never looks close to catching it. That comes despite the fact that the ZR1 is fitted with drag racing tyres.
One thing not going in favour of the Corvette ZR1 is the fact that it features a manual transmission while this M4 appears to be fitted with the optional 7-speed dual-clutch transmission from BMW. That gearbox helps to seamlessly send all 550 horses to the road without interruption and any reliance on the driver.