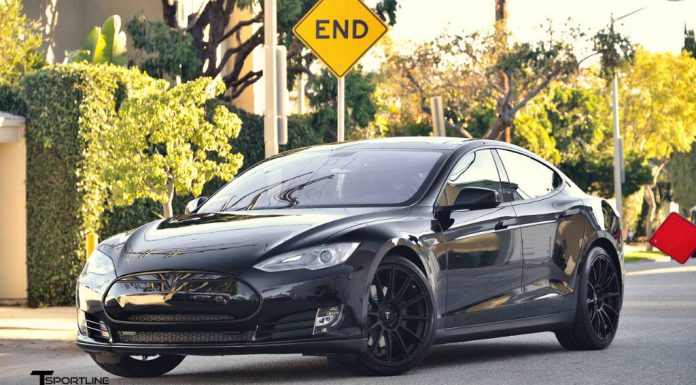 T Sportline is the world's first electric car accessory tuner, specifically focusing on the Tesla cars. The company is run by a group of automobile enthusiasts with over 30 years of combined experience and they provide several high quality accessories, including carbon fibre aerodynamics, accent lighting, precision forged wheels and various bespoke interior upgrades.
One of its works includes the Tesla Model S with black body colour and wheels and a custom audio system as well. It belongs to Lionel Richie and has been fitted with T Sportline's TS112+ forged wheels, a 4-piece Tesla body kit (carbon fiber sport package), a piano black steering wheel and custom handmade floor mats with initial embroidery.
With a rear-mounted electric motor, the range-topping Model S produces 762 hp and 931 Nm of torque. It comes with an AWD layout and can sprint from 0 to 100 km/h in 2.8 seconds with "Ludicrous Speed" upgrade. The electronically limited top-speed is 250 km/h.
In 2014, the Tesla Model S was ranked as the world's second best selling plug-in electric vehicle, after the Nissan Leaf. In June 2015, the global sales of the car exceeded 75,000 units with a relatively high demand in US and Norway.
[Via T Sportline]