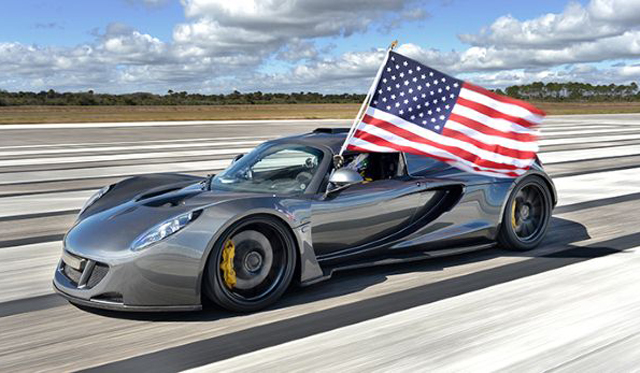 The 2014 Hennessey Venom GT which set a record-breaking top speed of 270.49 mph at NASA's Kennedy Space Center is currently up for sale courtesy of the DuPont Registry.
This particular Venom GT is one of just 29 examples being created and due to that low production figure, the car doesn't actually hold the title of the world's fastest production car. According to Guinness, not enough examples are being produced for it to be considered a production car. Consequently, the Bugatti Veyron Super Sport is still regarded as the worlds fastest.
Despite that, the Venom GT is still undeniably impressive. Retailing at $1.2 million, it features a twin-turbocharged aluminium-block V8 engine delivering 1244 hp. When combined with an overall weight of just 1244 kg, the car produces a perfect one-to-one power to weight ratio. Consequently, it can rocket to 100 km/h in just 2.7 seconds, 160 km/h in 5.6 seconds and 320 km/h in 14.51 seconds. It also holds the record for the 0-300 km/h sprint with a blistering time of 13.63 seconds.
Details about this specific Venom GT remain scarce but it apparently wears the same $1.2 million sticker price that the car retails at. It also looks undeniably sleek with the high-gloss silver paint scheme, black wheels and bright yellow brake calipers.
[Via duPont Registry]