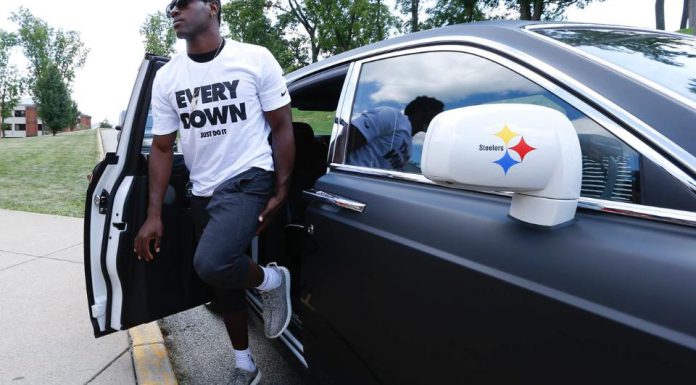 Antonio Brown is a wide-receiver for the Pittsburgh Steelers in the NFL. He was ranked eighth in the NFL 'Top 100 Players for 2015' and despite being just 27, he has amassed a fortune in excess of $45 million.
That is primarily because of his current five-year deal with the Pittsburgh Steelers, which he signed in 2012 and will earn him about $42.5 million. Nonetheless, with such a hefty salary package, Brown can afford virtually any premium car in the world he likes and the Miami-born star recently surprised the fans when he arrived for the training camp in a custom-made Rolls-Royce Phantom.
The latter is said to have cost Brown $500,000 and is painted in the Steelers colours of Black and Gold. The car even has Brown's signature on one of the sides giving it a truly unique look. It might be a bit tacky, but the modifications are tasteful.
Under the hood, Brown gets a 6.75-litre V12 engine in the Phantom, which generates 453 hp and 720 Nm of torque. The power is transmitted to the rear wheels of the car via an 8-speed automatic gearbox. Moreover, the Phantom can sprint from 0 to 100 km/h in just 6.1 seconds with an electronically limited top-speed of 240 km/h.
[Via nfl uk]