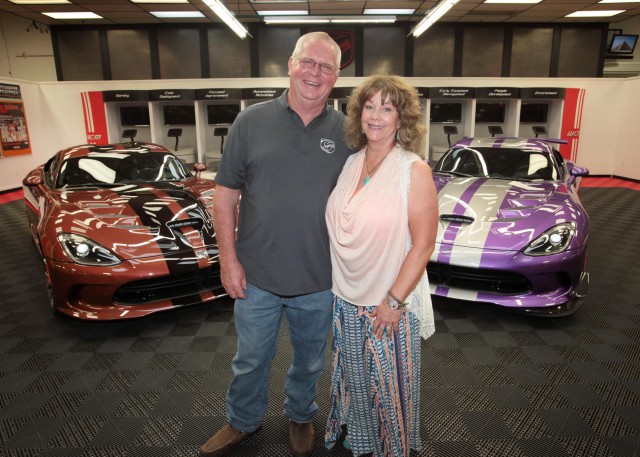 Undeniably the world's most enthusiast Dodge Viper lovers, married couple Wayne and D'Ann Rauh, have just taken delivering of their 79th Viper. To reach that record number, they were handed the keys to two customised Viper GTC models at the Conner Avenue Assembly Plant in Detroit.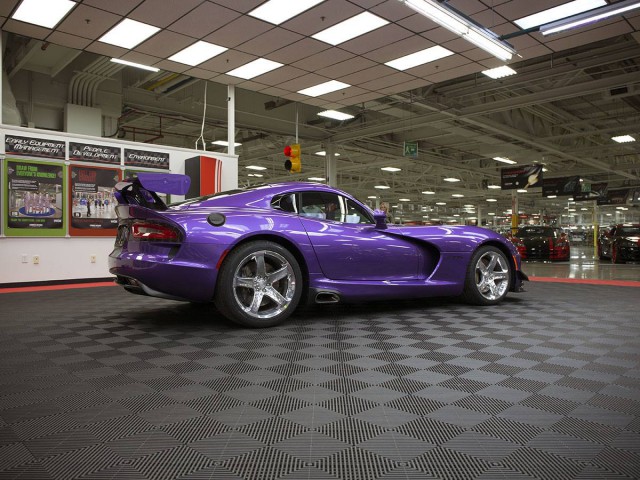 The Dodge Viper GTC is unique within the Viper line-up as no two customers can order the same configuration. With over 50 million unique build combinations available however, it's unlikely two owners would ever specify a Viper GTC identical to another.
As these pictures show, one of the Viper GTCs ordered by the couple is painted in an interesting shade of brown with black racing stripes and a set of silver wheels. The second one is painted bright purple and includes simple five-spoke chrome wheels, silver racing stripes and the optional aerodynamics package. That package includes a new front splitter, rear diffuser and a towering rear wing.
Unsurprisingly, the Rauh's have the world's largest private Dodge Viper collection. They also own a plethora of other cars bringing their total collection to well over 100 vehicles.