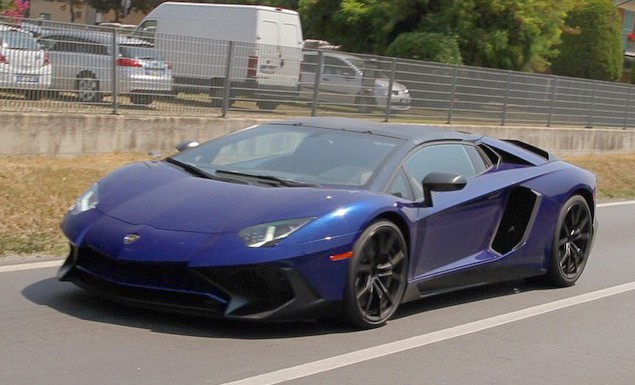 Not long after Lamborghini confirmed that an Aventador SV Roadster is being developed, a bright blue prototype has been spied testing with absolutely no camouflage. The following test mule was snapped immediately outside the Italian automaker's factory in Sant'Agata.
Visually, the Aventador SV Roadster looks identical to the Aventador SV coupe with the exception of its removable roof. Consequently, its front end includes the same modified front bumper and splitter package finished in matte carbon. Additionally, matte carbon side skirts are featured alongside a new roof, side air intake surrounds, wing mirrors, rear air intakes, diffuser and rear bumper all finished in matte carbon fibre.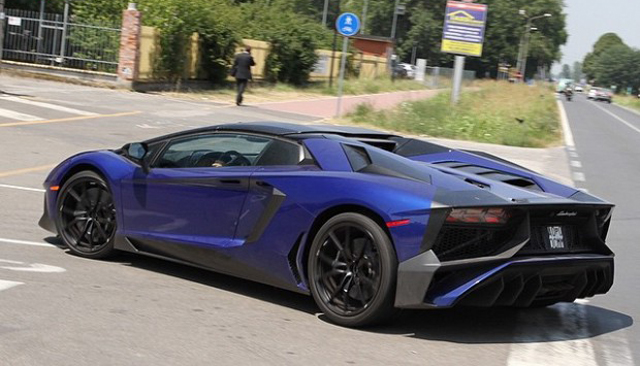 Another featuring distinguishing the Lamborghini Aventador SV Roadster tester pictured and the 'standard' Roadster is its use of carbon engine bay vents rather than the transparent ones currently featured. Interestingly, the towering fixed rear wing of the SV coupe hasn't been fitted to this prototype. Nevertheless, it is expected to be featured on the production-spec car but could be optional.
Powertrain wise, the Lamborghini Aventador SV Roadster will be the same as the standard coupe model. As a result, power from its 6.5-litre naturally-aspirated V12 engine will be lifted from 690 hp to 740 hp. Additionally, 50 kg can be expected to be saved over the current Aventador Roadster. Consequently, the Aventador SV Roadster should reach 100 km/h in 2.8 seconds, the same as the coupe.
The Lamborghini Aventador LP750-4 SV Roadster could debut at the IAA Frankfurt Motor Show 2015 in September.
[Via Austrian Exotic Cars]