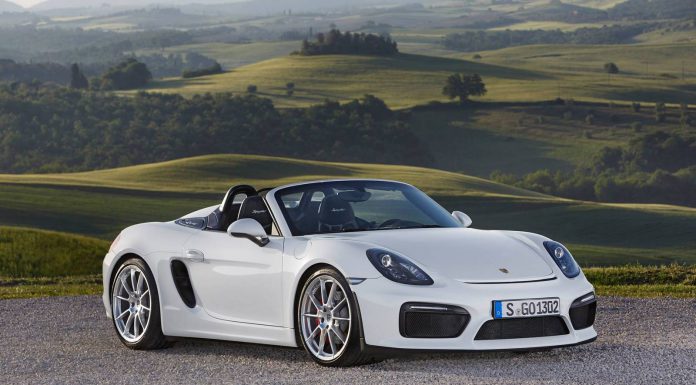 The Porsche Boxster was launched by the German automaker in 1996 and is often considered as one of the best roadsters on the planet. Its Spyder version came up on the automobile arena later on in 2009 at the LA Auto Show and has become a hit with the car enthusiasts.
The current-gen Boxster Spyder is fitted with a 3.8-litre inline-six engine, developing 370 hp (276 kW) and 420 Nm of torque. The engine has been borrowed from the Cayman GT4 and makes the Spyder the most powerful model of the Boxster. The power in the car is transmitted to the rear wheels via a 6-speed manual gearbox. The Boxster Spyder can sprint from 0 to 100 km/h in just 4.5 seconds with an electronically limited top-speed of 290 km/h. It was unveiled at the New York Motor Show 2015 with a listed price of more than USD $80,000.
Moreover, the present Spyder is also the lightest Boxster yet, with a weight of just 1315 kilograms (2,899 lb). This has been made possible with the use of aluminium doors, manually-operated roof and lightweight wheels. In addition to that, there's no paint, radio or even an air-conditioner (AC) in the car. This has also been done to reduce weight and also to remove any sort of distraction for the driver.
Above, we see a stunning white Porsche Boxster Spyder cruising through some beautiful landscaped gardens.