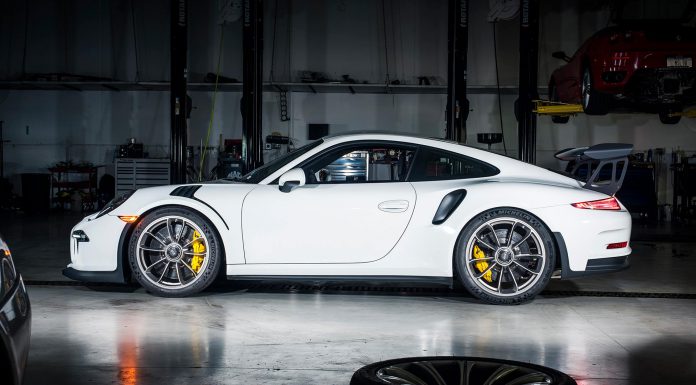 The very first 2016 Porsche 911 GT3 RS has just arrived in the United States thanks to Imola Motorsports. While not the brightest 911 GT3 RS ever created, it looks truly sensational.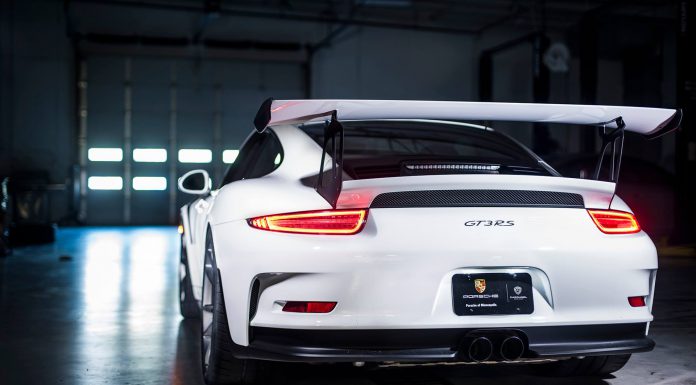 Most importantly, this 911 GT3 RS has been finished in a simple shade of gloss white which helps to bring out some of the most aggressive and flowing lines of the hardcore German sports car. The white is then contrasted by the matte black side air intakes, front splitter, rear lower bumper and the shark fin gills above the front wheel arches.
Elsewhere, the rear wing uprights and end plates are finished in matte black while the underside of the wing is painted white. Also featured are a set of stunning gunmetal grey wheels with black centre locks. Bright yellow brake calipers are the only coloured component found on the exterior excluding the taillights.
The 2016 Porsche 911 GT3 RS of course uses a brand new 4.0-litre six-cylinder engine which remains naturally aspirated. It has been tuned to deliver 493 hp (the same as the 997 GT3 RS 4.0) but now delivers 384 lb-ft of torque which is 15 lb-ft more than the GT3 RS 4.0. Additionally, these figures represent a 25 hp and 60 lb-ft increase over the current 911 GT3.