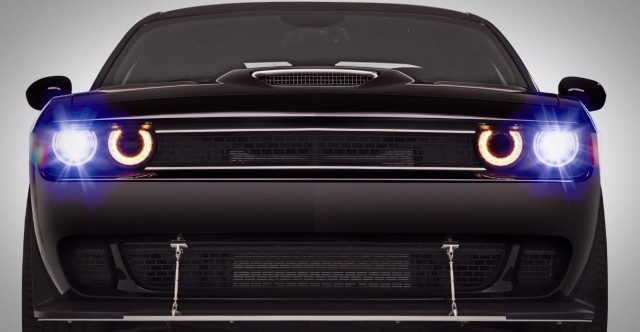 A one-off 2015 Dodge Challenger SRT Hellcat dubbed the 'Hellcat X' has just been previewed. The car has been created for the Dream Giveaway auction in the United States and will be sold for charity soon.
The main point of difference between the Hellcat X and the 'regular' Hellcat is the upgraded engine. Typically, the 6.2-litre supercharged V8 of the Hellcat produces 707 hp. However, the Hellcat X also features two turbochargers from Hellion Power Systems lifting the total figure up to 805 hp. Torque also jumps from 650 lb-ft to 800 lb-ft. Of course, for a car with a supercharged V8 with two turbochargers, those figures are conservative and with some tuning, well over 1000 hp would be comfortably achievable.
[youtube]https://www.youtube.com/watch?v=ObkpkQWLmog[/youtube]
Beyond the engine modifications, the Challenger SRT Hellcat X features a selection of visual and aerodynamic modifications. The most significant change is the new front splitter which is said to be adjustable. New badging is also featured throughout as are matte black wheels and massive red brake calipers.
The Hellcat X will be auctioned off alongside an original 1970 Dodge Challenger R/T.