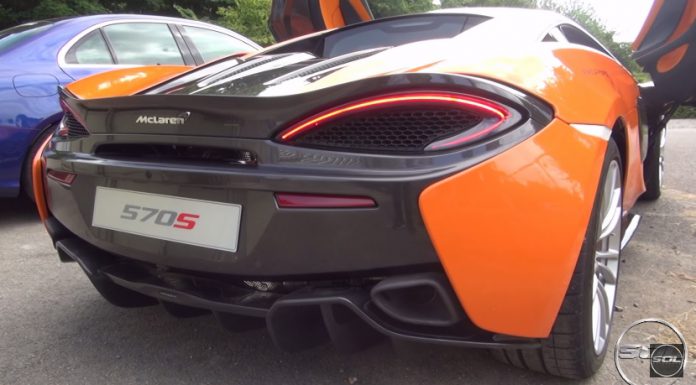 The brand new McLaren 570S recently celebrated its dynamic debut at the Goodwood Festival of Speed 2015. While not the first time the new variant in the Sports Series range has been on display in public, Goodwood did provide the world with its first chance to hear the new 570S in action for the first time.
[youtube]https://www.youtube.com/watch?v=efNdDIlmp3g[/youtube]
As all of McLaren's current models use a twin-turbocharged 3.8-litre V8 engine, they aren't quite as loud or ferocious to listen to as some of their naturally-aspirated rivals. With the 570S however, it appears as though the British firm has just produced its loudest current model with it delivering a true supercar howl.
Does it sound better than the 12C, 650S and P1? Well, many people live from Goodwood seem to think so. What do you think?
Beneath the skin, the McLaren 570S Coupe uses a 3.8-litre twin-turbocharged V8 with 564 hp. As a result, the 570S Coupe can hit 100 km/h (62 mph) in 3.2-seconds, while 200 km/h (124 mph) is reached in a very impressive 9.5-seconds with the pace not letting up till the car reaches a top speed of 328 km/h (204mph).
The engine has been branded the M838TE with E standing for Evolution as 30 per cent of the car's engine is bespoke. Linked to the engine is a seven-speed SSG transmission that promises to be quick and smooth. Stopping power should be just as impressive courtesy of standard-fit carbon ceramic brakes, fitted behind a newly designed range of forged alloy wheel options shod, as standard, with Pirelli P Zero Corsa tyres.