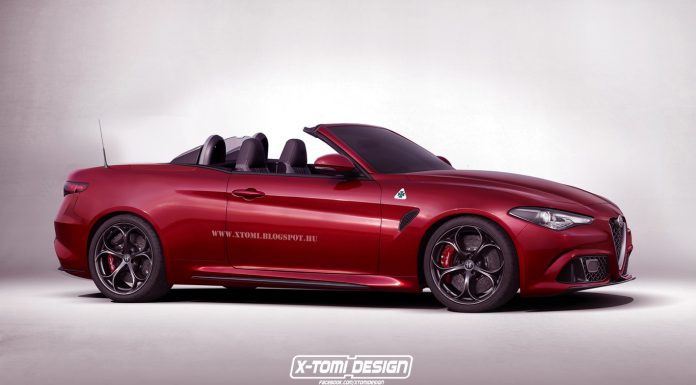 Despite the brand new Alfa Romeo Giulia being largely well-received by the world's automotive press, the Italian automaker is now under increasing pressure to ensure its brand new model rivals the Mercedes-Benz C-Class, BMW 3 and 4-Series and Audi A4 range in every aspect.
Consequently, the Alfa Romeo Giulia has already been rendered in estate form as offered by its three German rivals. Now, X-Tomi Design has imagined the car in convertible guise. If created, it would go head-to-head with the Audi A5 Convertible, BMW 4-Series Cabriolet and the upcoming Mercedes-Benz C-Class Cabriolet.
While it is unclear if Alfa Romeo will ever offer the Giulia as a droptop, the following rendering does give us a good idea of how the car could look.
If such a model is created, we're unlikely to hear official word about it for quite some time. After all, Alfa Romeo will have to see how popular the sedan proves to be before giving the green light to further versions and body styles.
[Via X-Tomi Design]