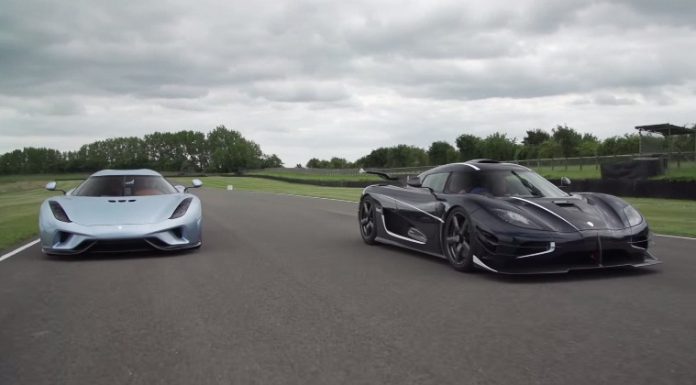 At last year, two incredible Koenigsegg One:1s were unveiled at the Goodwood Festival of Speed. For this year, the stunning blue carbon One:1 created for The BHP Project has been brought along as well as the first example of the Koenigsegg Regera and in the following video, can be seen on the move for the very first time.
[youtube]https://www.youtube.com/watch?v=dAKbYWD6Skc[/youtube]
Whereas the One;1 utilises a potent twin-turbocharged V8 engine delivering 1341 hp, the Regera produces and delivers its power in an entirely different way. Koenigsegg's bespoke dry-sump twin turbo, DOHC 5.0 litre V8 provides the bulk of the power for the Regera where it delivers 1100 hp. It is coupled to three YASA developed electric motors, one for each rear wheel (260 Nm's each) and one at the crankshaft (300 Nm's) providing torque vectoring, regenerative breaking and torque fill. The motor also fulfills the starter motor function.
Incredibly, the Regera features the Koenigsegg Direct Drive Transmission or KDD for short. The KDD system replaces the combustion engine's traditional transmission, reducing drivetrain losses and providing seamless power to the rear wheels.