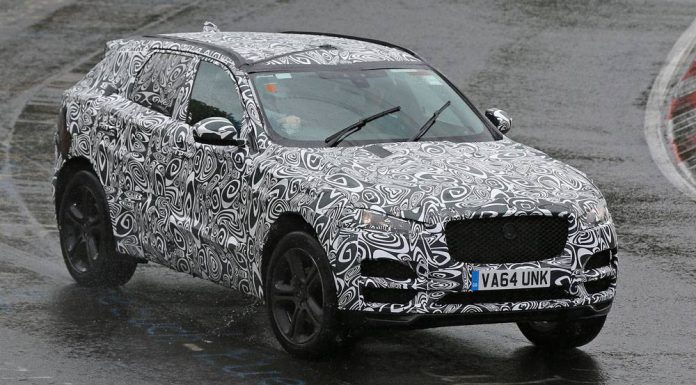 New Jaguar F-Pace spy shots have surfaced as car of the testing continues at Germany's Nurburgring Nordschleife complex. This particular F-Pace test mule is wearing slightly less camouflage than previously-spied units.
The rear-end for example doesn't feature camouflage across the back window while parts of the diffuser are also left exposed and finished in matte black. Additionally, this Jaguar F-Pace tester features two exhausts on one side of the rear rather than one of each side. Slightly less camouflage is also found on the headlights, front air intakes and front grille.
Beneath the skin, the road-going Jaguar F-Pace will ride on the same aluminium architecture as the XE. It will also be available with similar engines including a selection of petrol and diesel four-cylinders possibly utilising forced induction in the form of twin-turbochargers in top-specification. Thanks to the lightweight architecture, it is hoped the F-Pace will weigh less than the Porsche Macan, its main rival.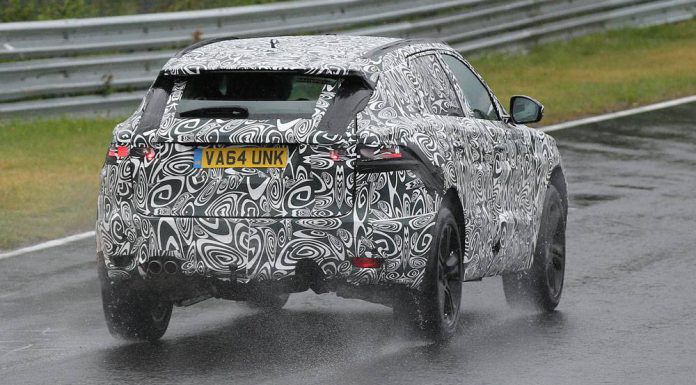 The Jaguar F-Pace will represent the British marque's ongoing push to better rival Mercedes-Benz, Audi and BMW follow the recent introductions of the latest-generation Jaguar XF and the all-new compact XE sedan.
As for the F-Pace, it will debut in production-spec at the IAA Frankfurt Motor Show 2015 in September, two years after the concept was revealed.