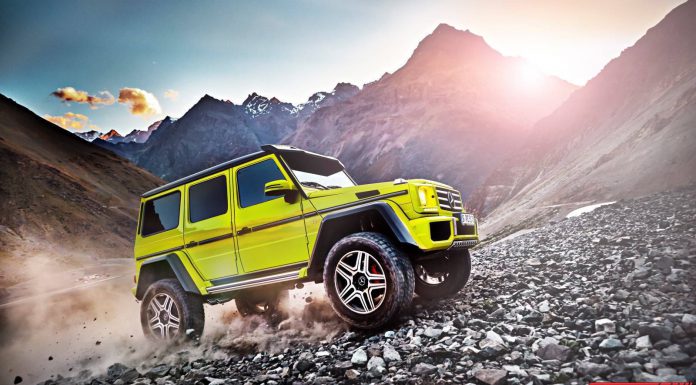 Following its unveiling at the Geneva Motor Show 2015, the Mercedes-Benz G500 4×4² has been given the green light for production. Additionally, the potent off-roader has been priced at 226,100 euros in Germany. Effectively a four-door version of the G63 6×6, the G500 4×4² will take the 6×6's place as the marque's most capable offroader.
Power for the Mercedes-Benz G500 4×4² comes from the firm's V8 found in the new AMG GT and C63 AMG. The 4.0-litre V8 features a hot inside-v where two turbochargers are mounted inside the V8. This makes the engine considerably smaller and more efficient. It produces 422 hp and 610 Nm of torque, enough for a 210 km/h top speed.
The most significant feature on the new Mercedes-Benz G500 4×4² are its portal axles. In setup, they are quite similar to the G63 6×6 but shortened by one axle. To further improve handling of the 'Hulk', as it was dubbed after the first spy shots, the suspension has been extended with two springs and damper struts per wheel, a setup derived from rally sport. On the G500 4×4² it has been extended to aid sportiness. Per wheel, one damper can be set electronically between Comfort and Sport mode to give a harder but sportier on-road driving experience.
The portal axles give the 4×4² a ground clearance of 45 cm – 24 cm more than a regular G500. It is more than enough to drive over extremely rocky terrain and wade through up to 1 meter of water. But just in case you do meet that 50 cm high rock, Mercedes-Benz mounted an extremely robust stainless steel under guard to protect the car.
Just over 100 units of the G63 6×6 were created but it seems likely that more examples of the G500 4×4² will roll off the production line.