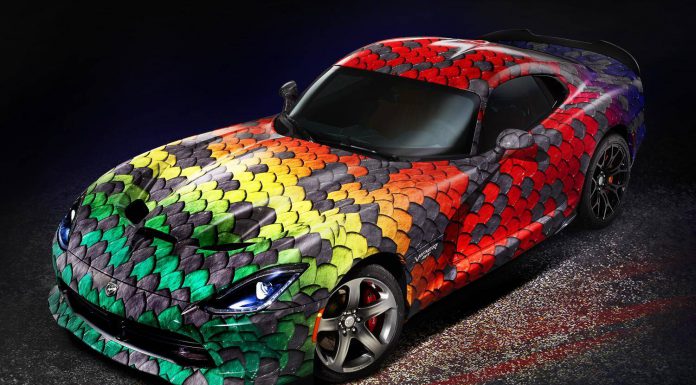 The 2016 Dodge Viper GTC has just become even more customisable with the announcement that the American automaker is now offering the car with 8000 brand new matte paint finishes.
The addition of these finishes means the Viper GTC is now available with 16,000 different exterior colours/shades as well as 48,000 individual stripe combinations. As a result of this, Dodge claims the Viper GTC now has 50 million different possible build combinations.
Discussing the expensive of the programme, president and chief executive of Dodge and SRT brands for Fiat Chrysler Automobiles US Tim Kuniskis said "The Anodized Carbon Viper was the first-ever use of this unique metallic matte exterior colour by FCA and helped further the trend in automotive matte finish exteriors from the factory. Now, by adding 8,000 new matte finish options to our high-end, hand-built hand-painted super car, we're continuing at the forefront of the matte paint trend by offering so many variations, colours and even a metallic finish, all of which give each "1 of 1" Viper an even more unique appearance."
Beyond the paint and racing stripe combinations, 10 different wheel options and 16 varying interior trims as well as 6 aerodynamic packages are available.
Pricing for the Dodge Viper GTC sits at $94,995 which is $10,000 more than the U.S starting price of the Viper which was recently slashed by $15k in September. The Viper GTC includes all the standard features of the Viper GT but with the extra personalisation options.