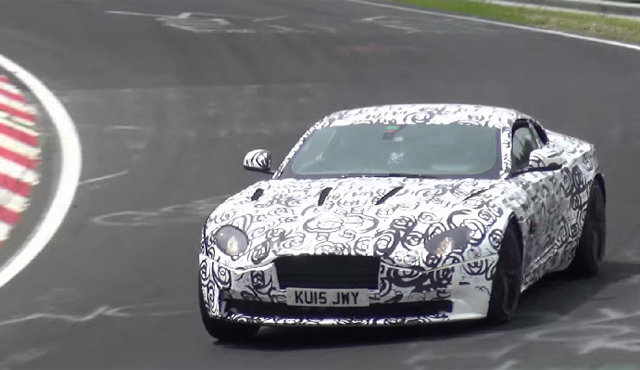 A video has just been posted online of the upcoming Aston Martin DB11 in the midst of testing at the Nurburgring. This is the first time we've seen the car in action at 'Green Hell'. It therefore provides us our first chance to hear the new engine fitted to the car.
[youtube]https://www.youtube.com/watch?v=-nyegk8yeRo[/youtube]
Interestingly, reports suggest that the Aston Martin DB11 will be offered with a revised variant of the V12 already offered for the DB9. The key point of difference between the new engine and the current unit is that it will be fitted with a turbocharger while the displacement will also be reduced. Despite the engine's smaller size, the use of forced induction will ensure it provides more than 517 hp and 458 lb-ft of torque like the existing model.
Beyond providing additional power, the turbocharger will help improve the DB9's fuel efficiency with a relatively significant improvement over the current model's 18.9 mpg return figure likely. Alongside the V12, Car Magazine reports that the new Aston Martin DB9 will also be made available with a V8. This will be similar to the Bentley Continental GT which can be optioned with a W12 or a V8.