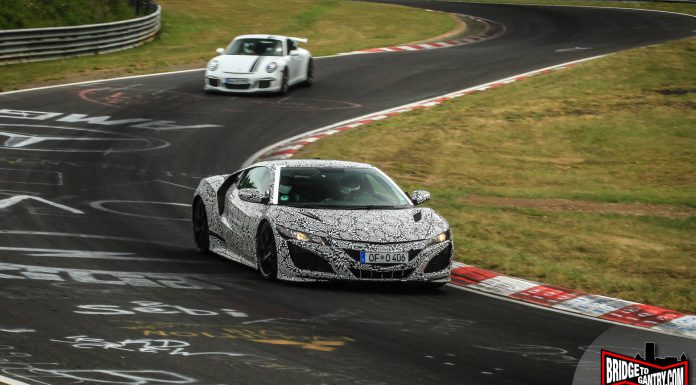 Last year, a prototype for the brand new 2016 Honda NSX caught fire while testing on the Nurburgring. Not long after, the Japanese sports car returned to the track to continue its extensive development regime. Now in the middle of 2015, the car has headed back to 'Green Hell' after being unveiled in production-guise back at January's Detroit Motor Show.
Engine wise, it has been confirmed that the 2016 Honda NSX makes use of a twin-turbocharged 3.5-litre V6 engine. The 3.5-litre engine is then joined with an electric motor at the rear while a nine-speed dual-clutch transmission sends the power to the ground.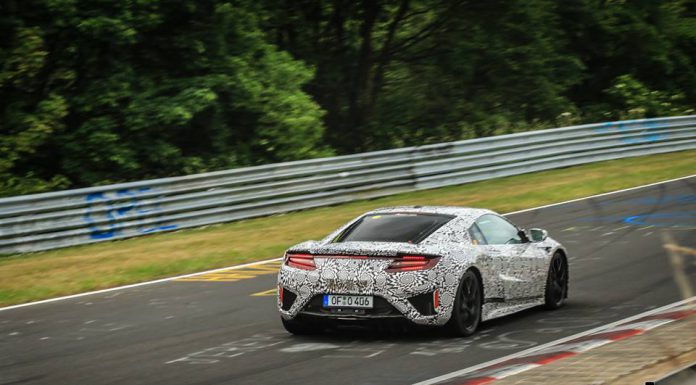 In an effort to ensure this powertrain package remains as cool as possible, three individual radiators are featured. One of them is found at the front of the 2016 Honda NSX while the other two hide behind the side air intakes. To improve efficiency, the front radiator is tilted forwards by 25 degrees. Elsewhere, 10 air-cooler heat exchanges are found throughout with the transmission for example being cooled by no less than two heat exchanges. Two intercoolers are also found for the turbochargers.
Another key technical feature of the 2016 Honda NSX is that it features the world's first three-dimensionally formed A-pillar created from high strength steel meaning it offers class-leading rigidity while also being thin enough to offer good visibility. Underpinning the second-generation NSX is also a multi-material space frame utilising aluminium and high-strength steel.
[Via Nürburgring Bridge To Gantry]