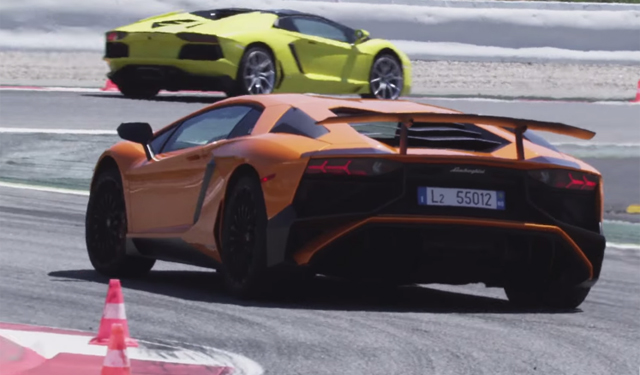 Whenever Lamborghini applies its famous SV badge to one of its models, one can be assured the car will be incredibly special. Previously used on the Miura, Diablo, Murcielago and now the Aventador SV, the badge immediately evokes senses of power, passion and speed.
[youtube]https://www.youtube.com/watch?v=ulfxHtVF8bg[/youtube]
Evo Magazine's Jethro Bovingdon recently had the opportunity to drive the new Lamborghini Aventador LP750-4 SV at Spain's Catalunya circuit in Barcelona. While the press drives hosted by the Italian automaker were only short, the general consensus seems to be that the Aventador SV is infinitely more nimble and agile than the standard car. In fact, it is almost like an entirely different car.
Of course, the Lamborghini Aventador LP750-4 SV sports the same powertrain as the regular Aventador; a 6.5-litre V12. However, it gets a modest power boost of 50 hp together with a weight reduction of 50 kg. Consequently, the top speed is now 350 km/h and the 0-100 km/h time drops from 2.9 seconds to 2.8 seconds. Torque remains at 507 lb-ft at 5,500 rpm and peak rpm rises to 8,500 rpm.
The aforementioned weight reduction is achieved through the use of carbon fibre for parts including the engine bay cover, rear wing, wing panels, interior door panels, bucket sports seats and air intakes. Carpets and noise insulation have also been taken out, as has the multimedia system which can be put back in at no extra cost.