Goldrush Rally 7 is shaping up to be the best ever with a plethora of extremely expensive exotic cars set to participate. They include 14 Lamborghinis, 9 Ferraris, 8 Rolls-Royces, 5 Bugatti Veyrons and many more and prior to the rally kicking off tomorrow, some shots have been released of four of the most eye-catching cars taking part in GR7.
The first of them is a custom McLaren 12C. It has been installed with a bright blue wrap courtesy of Protective Film Solutions and is also rolling on a set of custom matte black Vorsteiner wheels. Elsewhere, it features a selection of custom carbon fibre exterior elements like the front bumper, splitter, wing mirrors and side air intakes. Completing the visual modifications are blue brake calipers and a custom rear bumper/diffuser package.
Also participating in GR7 is the bespoke Bugatti Veyron Super Sport Pur Blanc now complete with a custom GoldRush Rally livery combining a selection of gold elements. Elsewhere is a special Ferrari 458 Italia with a grey camouflage wrap helping it match a Rolls-Royce Phantom with a near identical exterior finish.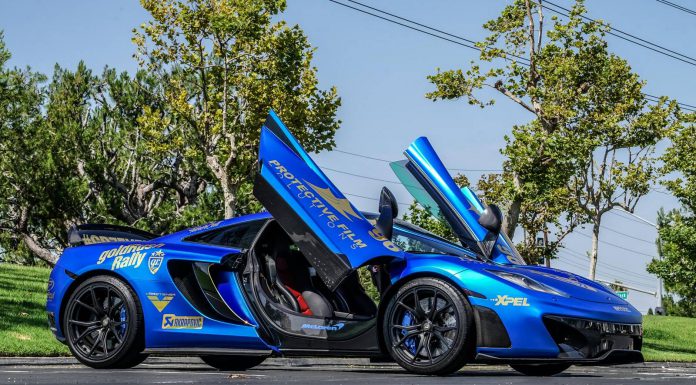 GR7 is scheduled to take place from June 5th to June 13th starting in San Diego all the way to Miami. The Goldrushers will leave San Diego on June 5 with their first stop scheduled for June 6 in Las Vegas. They will then proceed to Sedona in Arizona on June 7 before completing the first leg of the rally on June 8 in Santa Fe, New Mexico.
The second leg of the rally will kick off in Austin, Texas where participants will spend two days – June 9 and 10. NOLA will probably be the best of all stopovers with drivers arriving there on June 11. From New Orleans they will proceed to Jacksonville, Florida on June 12 before completing the rally in Miami on June 13.