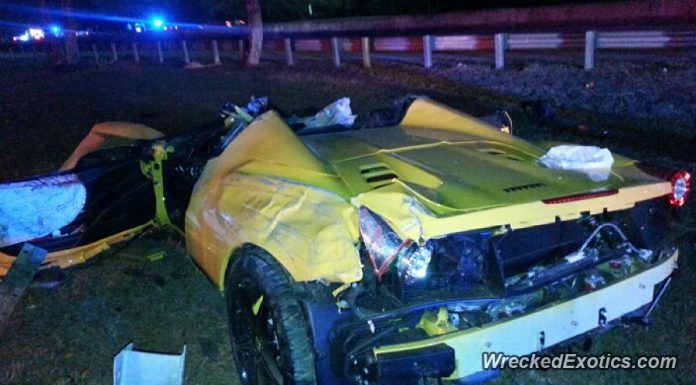 A bright yellow Ferrari 458 Spider has been destroyed after crashing at high speed in San Juan, Puerto Rico.
It is reported that just before the crash, the Italian supercar was travelling at 160 km/h on a local highway. The driver then lost control for yet unknown reasons sending the 458 Spider through the crash barriers and off the road.
While the full sequence of the crash isn't know, the damage sustained to the car suggests that it suffered a multitude of impacts. The front end for example, has been completely torn off with nothing but the bonnet and one of the wheels remaining.
Additionally, both of the doors have been destroyed while the windscreen has simply vanished. Serious damage is also present across both sides as well as the rear-end. The only part that seems to have escaped serious damage is the rear decklid and engine cover.
The male driver is currently in a critical condition while his wife in the passenger seat escaped without injury.