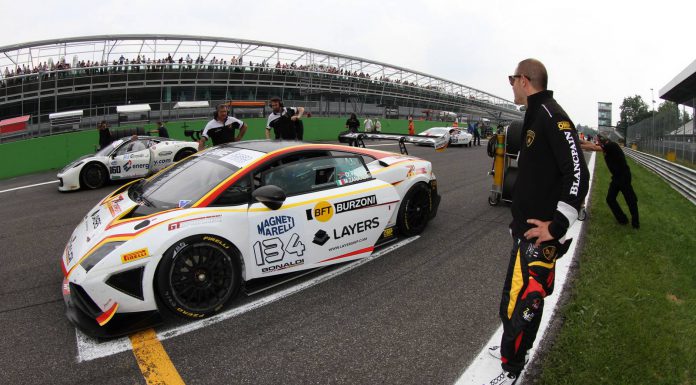 We have received a fresh set of videos from the Italian GT Round 2 at Monza onboard the Lamborghini Gallardo GT3 of Bonaldi Motorsport driver and winner of Round 1 David Perel. The Round consisted of two races held on different days in the last weekend of May. Race 1 was won by Bortolotti and Viberti in a similar Lamborghini Gallardo GT3, leading a Corvette C6.R of Sini-Keilwitz from Solaris Motorsport and the Porsche 911 GT3R of Donativi and Postiglione.
Race 2's win went to Mirko Bortolotti and Alberto Viberti once again; aiding them to climb up the championship in the GT3 class. The Imperiale Racing duo now leads the GT3 standings with 56 points each. P2 and P3 was claimed by Schirò/Berton of Villorba Corse in a Ferrari 458 Italia and Casè/Gattuso of Scuderia Baldini 27 in another Ferrari 458 Italia.
The Bonaldi Motorsport team of Mirko Zanardini and David Perel finished third in Race 1 in the GT Cup category while a puncture cost them the podium in Race 2 where they finished in P9. Below is a video from qualifying session still onboard Perel's Gallardo GT3. Round 3 of the 2015 Italian GT season will head over to Imola on June 28.